An Evergreen Career Option - Android Development
Career trends vary from time to time, however one thing that remains constant is the knack and liking a candidate has for something. Having said that it is important to foresee the career options and future goals a person would like to have for himself.

There are some traditional fields like engineering, medical, legal, arts, commerce, business administration and the like that most people opt but newer career options like android development is catching up at a fast pace world-wide. The reason behind this is the increasing usability of android devices (be it smartphones, notepads, laptops, etc.) and the customized apps for various services.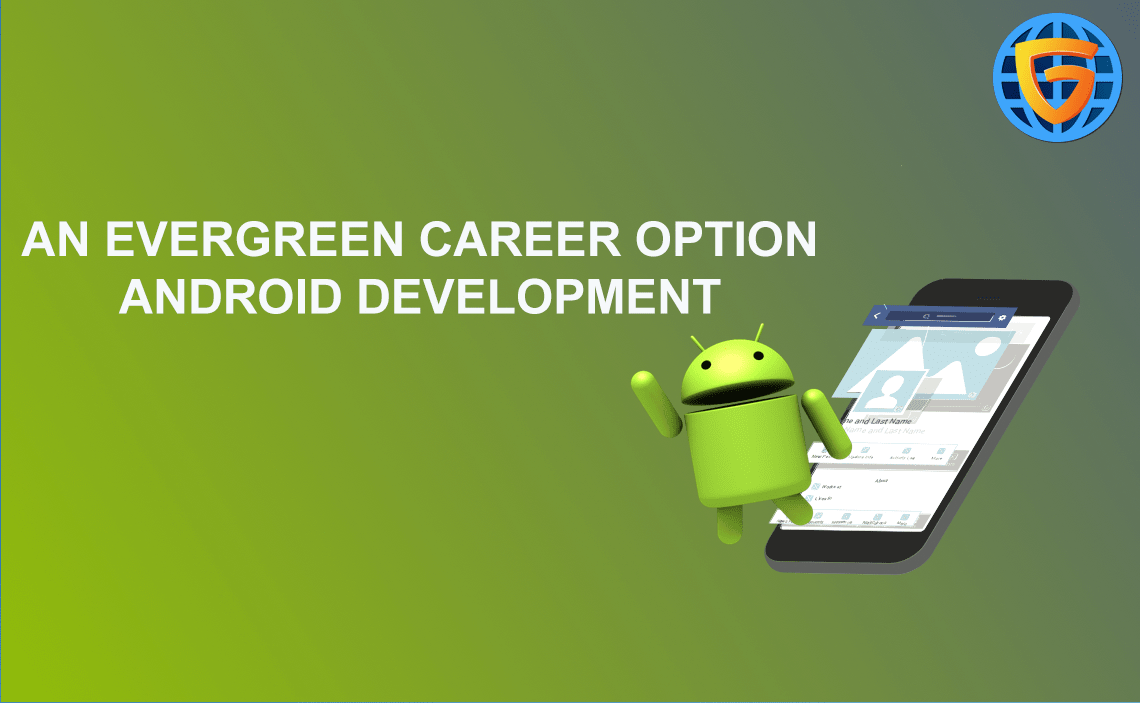 Now to see why it is considered an evergreen career option:

Freedom to Create: Open Source Code
The biggest lucrative factor for choosing to learn android app development is the open source code which allows anybody and everybody to create multiple apps for varied purposes. It gives the much needed freedom and the variety for the developer to create.

Job Opportunities: Global Penetration
There are two basic things that are required for something to be in demand, i.e. necessity and popularity. You have no dearth of jobs given the impressive and growing percentage of android users.

Remuneration: Demand for Developers
Almost every business these days wants to be there on the Google Play Store, the official app store for android as it increases user accessibility, customer services, customer engagement, etc. manifold.

Android Development As An Attractive Career Option
As the world is coming closer and technology is making life faster and easier, people are making use of smartphones to complete daily chores and office work just on a few clicks irrespective of where they are located or what they are doing. This is made possible through the mobile application.

All smartphones users are conscious of Android, being the foremost used and popular platform. Android development across the planet has gained speed, and hence, IT students who are in search of a successful career must consider Android development.

In case there's any confusion or doubt, here is the list of reasons which can emphasize the necessity for pursuing an Android Development course.

1. Growing Demand For Android Developers
Android OS is straightforward to use, and most of the smartphones are running on Android. because the IT advance is occurring frequently, Android must get updated accordingly. Here, comes the necessity of a talented Android developer.

2. Get an upscale Package
By now, it must be clear that this and the way forward for Android OS within the IT sector is inevitable and irreplaceable. So, those that are trying to find faster career growth with rich salary packages. Having a recognized certificate in Android development would boost the probabilities of getting a far better position within the market. Plus, the demand for the Android developer isn't restricted to at least one particular market or region. Hence the scope is global.

3. Enhance Technical Skills
By studying Android development, one will get an opportunity to find out all the coding tricks which might be workable within the real market. it'll enhance and extend the knowledge domain , hence increasing opportunities too.

4. Sort of Job Opportunities
The Android developer has multiple job opportunities within the market. Once the Android course is completed, an individual can start working under various job designations like mobile architect, Android developer, Android engineer, etc.

5. It's Easy to learn
Anyone who is considering a career in Android development has got to have knowledge of Core Java alongside a reasoning capacity. If you've got this, you'll learn Android development.

Conclusion:
If you are thinking of waiting for the right time to learn this skill, this is the time when the market demand is very much in favor of Android developers.

GICSEH is the best android training institute in Noida which offers Android app development course for the interested individuals who wish to be Android OS experts and are determined to achieve their spot in the IT industry. Tablets and smartphones are a part of every household, and android plays a major role in the functioning of most of them. In this scenario, knowledge about the android app designing and development is crucial and the market demand for such experts is high. Hence, it is very important to attain programming lessons from the expert, and GICSEH stands out as the best institute for android app development course in Noida.

At GICSEH , we have expert professionals who will impart proper teaching and guidance regarding designing and development of android mobile applications. Not only that, we also guarantee job placements soon after you complete this course. Our training offers the necessary boost to your career graph no matter if you are a fresher or an experienced professional. This explains why you should opt for GICSEH , the best institute for Android training.

So, do you see yourself as an android app developer in the near future? What other career options lure you and what do you look for when choosing a career? Please feel free to share with us and we'll be happy to assist you.

Join GICSEH today!!