Android - A Great Career Path
This is the era of smart phone and modern technologies. Every second day a new trend or technology is being introduced in the market and there is always something that the individuals need to get acquainted with. The widespread use of smartphones in the modern world unveils several new pathways for the individuals to reach to the height of networking and advancements.

Android smart phones have brought about significant and tremendous changes in the lives of individuals and have also helped them to maintain a pace with significant advancement in technologies that have been introduced in the market recently. The easy-to-use and friendly user-interface features of the Android operating system have allowed it to penetrate through the nooks and corner of every part of the world.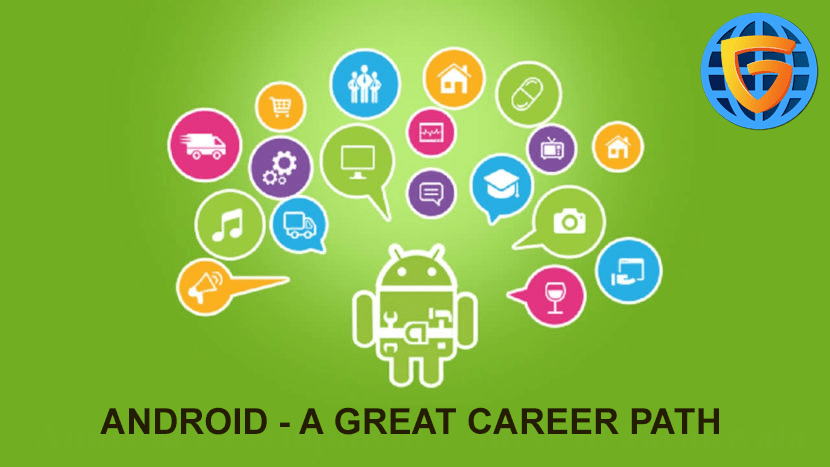 The Android market's growth has led to the development of various career opportunities and is thus one of the largest industries of recent era to offer a large number of jobs in the market. The Android developers are finding their way to reach the height of the market with brilliance. A large chunk of individuals are showing their interest to join this field in order to achieve great success in their career.

We have entered in the era where the Android operating system has entered into every possible corner. On one of its sides, the recent OTA update of the latest Lollipop for Motorola and Nexus phones, on another side the next version which is Lollipop- II has been already there. The 21st century is all about upgrading regularly and staying updated.

Android has more users than any other operating systems and which brings the necessity of Android courses for the aspiring developers.

Are you still thinking why to start with Android app development? Let's check these few reasons that elaborate its importance.

Reason 1: Open Source Code:
The great things about the Android operating system lie in its features. When compared it has been observed that some of the top brands like HTC, Samsung, Asus and various others make use of this code to make use of smartphones easier.

As per the research, it has been observed that Android OS is going to take a leap in today and future. As most of the Android devices are available at a reasonable price tag and have great features, the market size is going to expand every day. In such a demand scenario, becoming a certified android app developer can be a great and profitable choice.

Reason 2: The Huge Market — Google Play Store
We all know about Google Play Store which is one of the biggest app stores. Ever since Google rolled out its play store, the users have the freedom of experiencing different types of apps. No more people wait for iTunes as not everyone can afford an iPhone. However, with the play store along with the Android smartphone you get twice the option without spending much.

Let's depend on the research studies:
Android is the first operating system for 6 E-Readers, 90 tablets, and 300 Smartphones
Every day an approx of 1.5 million devices on Android OS is getting activated throughout the world
There are more than 1,460,880 apps available in Google play store and the number is expanding every day
More than 60% of the Android apps are available free of cost

Reason 3: Huge Job Prospects:
There is no doubt that Android has been providing the businesses with a desirable revenue model, which is compelling more businesses to develop a dedicated app for their businesses. Being a certified android developer with experience ensures retaining the top position when it comes to jobs. Moreover, another advantage of learning app development is even being a learner you can opt for working as a freelancer and add to your experience.

When it is about choosing a career path, opting for the Android developer can be a great choice.

So, from the above-mentioned reasons, most probably you have got to know the reason why getting your name enrolled for the Android training courses is a good choice. With such a huge market that is ever expanding, choosing Android development as a career path can become profitable.

If you are looking for a rewarding career option, then Android Development is one among the topmost courses that promises a bright career. Join our upcoming android development batch and take a step ahead towards a better journey.

Join GICSEH today!!