Best Android training program at GICSEH
Giving quality education to its students is the motto of the Global Institute of Cyber Security and Ethical Hacking, Noida. It's the sole institute in India which provides an education which is at par with the industry's current requirement which is why the success rate of our students is extremely high.

Our students are trained not only for the exam, but more importantly, for the important job. That's why we've included some very innovative techniques in our education system in order that the scholars get the utmost benefits.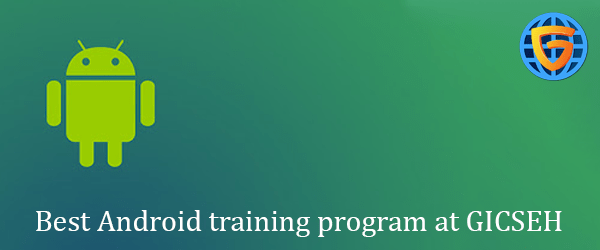 4 Salient Features Of Our Android Training Program

• We Have a number of the best Faculty
Our faculty is devoted and hard working and aims to offer results. That's why our students are so concentrated in their work.

• Quality Education
Our curriculum is meant to offer maximum time to application of everything the scholar learns within the class. This way, he/she becomes confident while handling the interview panel. We understand that IT industries don't conduct any programs to acquaint newcomers to know the necessity of the planet market.

• An Education Suited to the Industry Need
Our education isn't just rich in quality, it's custom made to the industry's requirement. It's a booming industry and in India, it's one among the most important sectors. This is often the rationale why we are preparing our students to emerge as winners.

• Class Timings which suits Your Particular Needs
We believe giving the best to our students which is why we've timings which may suit all of them. Our classes run during the day and you'll pick a time which suits you.

Why Android Training?
Android training is one among the most important areas within the IT and currently it's attracting professionals from all walks of life. Once you are with us you'll be rest assured that you simply are with the proper people. GICSEH offers courses in Android training which can take you and your career to new heights.
Android is an OS primarily used for mobile, especially smart phones with touch screens. It also can be utilized in other devices which use touch screens like tablets, Android TV, Android auto and Android wear or Smart wrist watches.
Currently operated by Google, Android the world's hottest OS . it's a world wide market share of 80 percent. Most of the mobile have android as their OS and other people can download a variety of operations, applications and services on their phones.
The marketplace for Android is probably the most important and requires trained professionals in great numbers. because the world goes through a technology revolution, Android is finding its own place as an OS .

Why GICSEH is that the best for Android Training in Noida?
GICSEH is the only institute that has designed special courses for Android Training. We also confirm that the batches are concise with only 5 students in each. This is often why our teachers are ready to consider every single student. The standard of education remains very high during this one on one study method and this is often why our students learn their area of study with such mastery .

Other Features Include

• A Well Crafted Syllabus
We've taken the assistance of the many experts of the Android market, and have also done research to create your syllabus, ensuring that we offer you only the simplest . Our curriculum is both comprehensive also as relative to this market.

• Availability Of the simplest Resource Material
Study material are some things that were never in need of . We've stacked an entire library with relevant books in order that you've got all the resources and therefore the study material at your disposal.

• Timely Assessment
Assessment is an integral part of a study schedule and it's only through tests can we study the particular learning happening . For this reason, we've incorporated timely tests and assessments in every batch. This is often an ideal thanks to brushing up your skills and identifying your flaws.

Prerequisite for Android Training at our Center
The person enrolling in our Android Training is required to possess basic knowledge of internet applications also as tools and any basic programming language like C or C++ or Java, etc. An operational knowledge of the computers is additionally required.

If you are looking to make a bright and rewarding career in the field of Android Development, then get in touch with the experts at GICSEH today!

Join GICSEH today!!