Best Java Training Institute in Noida : GICSEH
Get the best Java training in Noida. GICSEH is popular for providing quality training and education in Noida and we can proudly say that GICSEH is one of the top Java training providers in Noida. All our Java trainers are experts in the training industry. The Java training we provide is designed to suit the industry standard curriculum which makes it a 100% Job Guaranteed training program offered by us.

We at GICSEH, provide training which is live projects based training on Java which creates confidence in students. Java training in GICSEH is all about practical knowledge and hands-on experience. Here we teach students to learn, develop as well as deploy their Java projects with us. Our industrial training on Java program is guaranteed with 100% job assurance. Students having Java certification from GICSEH are able to secure jobs in MNC. All our trainers are very experienced in their respective fields. All our trainers are professional and have plenty of experience and practical knowledge which they love to share with the students. Our expert trainers will guide you throughout the training to make you get ready for your dream job.

We take full responsibility for the training of the student. We train the students from the basic level to advanced concepts with a real-time environment. By joining the best Java training provider in Noida you will get the hands-on practice and thorough knowledge of subjects. This will increase their experience and build confidence in them.

A student who joins GICSEH, best Java institute in Noida becomes a family of member GICSEH. After the completion of the Java training/course and certification. They get Java training with the placement solution. In this placement solution, our placement team schedules placement drives and also sends students to MNCs for interviews through our references. So, the assurance of a job and moderate training fee support students to achieve their goals.

We help students to experience the real feel of the industry's working environment during Java training in Noida. During their 6 months industrial training period they come to learn the complete phases of SDLC. In the best Java training in Noida GICSEH provide the Java training and certification along with the placement program. Our practical approaches of teaching helps student to practice the same right from the first day itself. The trainers are highly experienced in development and corporate training who guide the students to develop as well as deploy their projects live then and there. Our java training course is a job oriented course mapped with the industry standard and conducted by corporate trainers only. The course is designed to help students achieve the goal of their life by initiating the process of development while learning with us.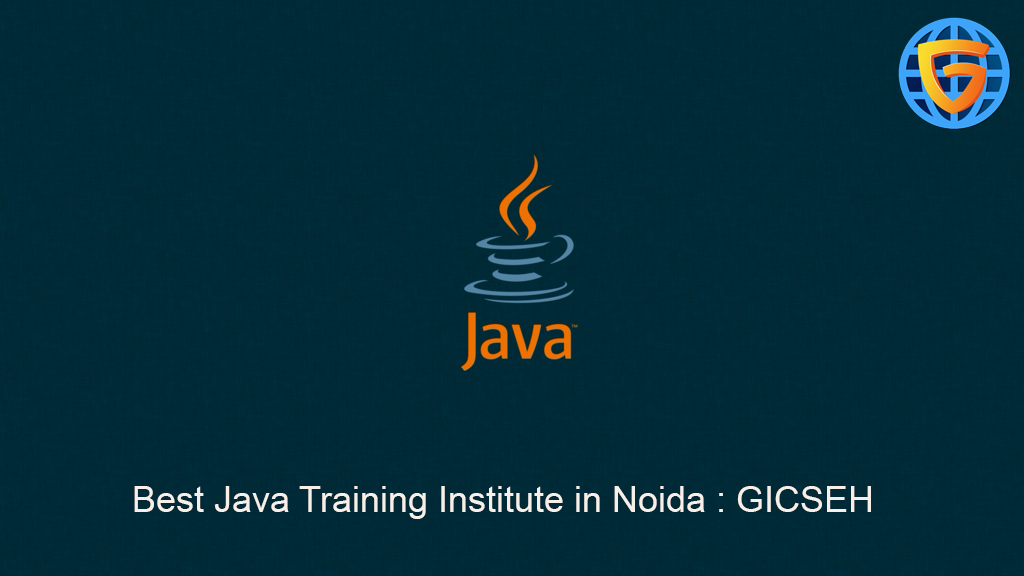 We are doing it completely differently to train students on the cutting-edge technologies in a way that anybody can adapt and learn it because it's all about practical implementation which starts here from the beginning itself. When it comes to placement we have our dedicated placement team to look after your placement activity. We believe in quality education and GICSEH is fully responsible and dedicated for the quality delivery of every course we conduct. Hence we say what matters is your knowledge at the end of the day and we are ready to build you as a complete package technically and of course our placement team will do their best in getting you placed finally. We have our dedicated placement team looking after grooming sessions, personality development sessions, resume building activities and off campus - on campus interview scheduling for the students.

Being the industries first choice java has been regarded as the ever growing technology so far which offers the best platform for fresher students to begin with. It adds many more feather in your cap by providing various frameworks support to build a dynamic and robust applications software. We also provide recorded video sessions, ppts, pdfs for every module of java training in Noida course which helps students to revise things easily even after completion of the course. Our membership card enables you to attend revision sessions on weekends on a regular basis as long as you want. The trainers in this java course in Noida are always available to help/support your practical assignments through skype, email or phone. In this digital era students find many platforms to learn theory of anything so our entire course sessions are divided into weekly schedules in which the training approach followed to deliver the practicals and theory.

Why Choose GICSEH for Java Training in Noida
• GICSEH has highly experienced and qualified professional trainers.
• Learn Java with hands-on practice in a real environment.
• GICSEH's best Java training in Noida provides a job oriented course's syllabus.
• GICSEH provides Live project-based Java training in Noida.
• GICSEH's Java training in Noida is designed to suit the industry standard curriculum.
• Authorized Java Certification.
• Fast Track classes are also available with best course fees.
• GICSEH training institute in Noida provides well-equipped lab facilities and decent infrastructure for Java training.
• Our best placement solution for job assurance.
• GICSEH's Java training center in Noida provides Java training on weekdays as well as weekends.
• At GICSEH, the best training company in Noida, we facilitate students with updated modern I.T technology and the best learning environment.
• Our labs have big screens and projectors which makes learning quite interesting.

GICSEH's Trainer's Profile for Java Training in Noida
• Our trainers are experts in Java technology.
• Our trainers are highly experienced and have mastered Java technology.
• Our trainers know the demands of today's industry so they provide the training considering the industry competitions.
• Our trainers have long teaching experience so they teach the students according to their level.

Join GICSEH today!!