Want To Choose Web Designing As A Career Option?
To start a career in the technical field one should settle down with a streamlined mindset. There are so many different ways to start a career in the technical field. Web designing is also an inspiring and attractive career path that has pulled a large number of individuals towards it. No doubt web designing has become a favorite career option for many individuals but the point is how to become a web designer, what skills are needed, what are the eligibility, which institute to join, and how to start? These are the general questions that strike in the mind of any individual who is planning to start a career in Web designing. Don't worry, in this article we will provide you all the necessary information needed to start a career in web designing.

While we talk about the need for skills for web designing no such skills are needed. But yes one should be familiar with the term of tech skills and must possess soft skills.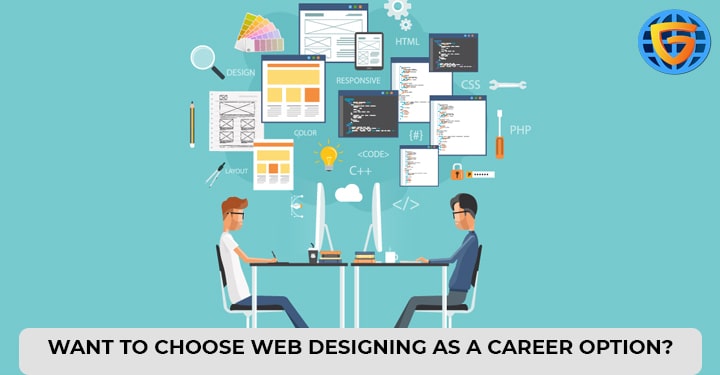 Let's first discuss tech skills of web designing

HTML
To be a web designer, do you realize how to code? You probably won't have envisioned that web designers would have to know any code, yet some measure of technical skills is fundamental — a little knowledge of HTML and CSS is normal for most design occupations these days. HTML represents HyperText Markup Language, which is the programming language used to put content on a web page and give it structure toward the front. That implies it's the way you transform a lot of words into features, passages, and footers. Furthermore, it's likewise how you get the "cool" content like photographs, recordings, and illustrations on a website.

CSS
Along with HTML, one should have the knowledge of CSS as well if he wants to be a master in web designing. CSS stands for cascading style sheet and is a must for web designing with HTML. CSS helps a web designer to put colors, change the font size and styles, make the content look good, and put different styling on the web page. The more creative you are, the more you can put creative efforts on the web page.

Graphic designing Softwares
In order to become a perfect web designer, you need to learn the top software used in graphic designing and web designing. There are several tools that are used in the designing of a web page. Some of the tools used in designing a web page are:

Adobe Photoshop: Adobe Photoshop is used to design the graphics for the website.

Adobe Illustrator: Adobe Illustrator is also used in the designing of graphics that are used on the webpage.

Sketch: Sketch is also used in the designing of graphics along with Adobe illustrator and adobe photoshop.

However, along with their tech-savvy skills they must possess some soft skills as well. These are the skills that let you work efficiently not only in the field of web designing or technical field but in any kind of work you are doing.

These soft skills could be:
Management of time
Client management/Business management

These are the skills you need to possess In every aspect of life anywhere you work but being a bit time management efficient marks you a difference then your counterparts.

Aspects of web designing. You need to look after the various aspects of the web page while designing a website. Such as:-

Brand image: Websites reflect how the brand is. One should be very conscious about the website and brand while designing a website.

Colors: Colours are the spirit of a website. Good colors make the website attractive and also attract internet users.

Layout: Keeping this as a thumb rule keep the layout of the website simple, clean, user friendly, and in a way that reflects streamlined data or information which the user is seeking for.

In case you wish to make a profession in Web development, there are a few points that you need to make sure of:

Information about the course:
In India, numerous private colleges are giving the certificate, degree, and diploma courses in designing. The span of these courses differs from 1yr to 2yrs. Register yourself for Web designing in Noida, with GICSEH. GICSEH provides a better understanding and practical in-depth knowledge of web designing aspects to its students. A designer ought to be imaginative, creative. There are no such prerequisites defined for the course but In case you are a computer science graduate it goes about as an additional benefit to your profession.

Career Prospects
As the IT business is booming, web designing in India has a more extensive degree. It's fundamental for each organization to have a site produced for advancing its business, for which they search for an inventive and qualified designer. Many advertising agencies, Manufacturing firms, PR Companies, and design studios, retain web designers. This designing field development relies upon your creativity and experience.

Join GICSEH today!!