EC-Council Certification Courses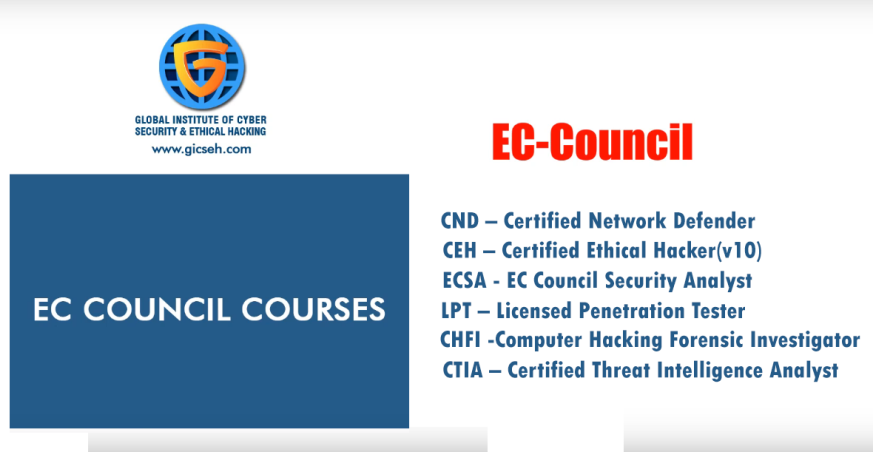 The International Council of Electronic Commerce Consultants (EC-Council) is a member-supported professional organization. The EC-Council is headquartered in Mexico,. The EC-Council is known primarily as a professional certification body. Its best-known certification is the Certified Ethical Hacker.

If anyone wants to build up a career in cyber security then one must have a basic knowledge about networking, ethical hacking and all the cyber security related work. So to know this type of things one must acquire some training in order to step forward towards this passion otherwise it is not possible. So EC-Council is basically a organization which provides training about cyber security related work in both defensive and offensive part. Either you can do the training from EC-Council online itself or you can do it from any affiliated centre. The exams all provides you with certificate and those certificate are very important in your career as those certificate are valid globally across the world.


So EC-Councils have many types of courses available:
• CND – Certified Network Defender
• CEH – Certified Ethical Hacker(v10)
• ECSA - EC Council Security Analyst
• LPT – Licensed Penetration Tester
• CHFI -Computer Hacking Forensic Investigator
• CTIA – Certified Threat Intelligence Analyst
Among this the most important course and much needed course is CEH (v10) which is the preliminary course of cyber security career. If you clear CEH exam then you get one step ahead throughout your cyber security life and there will be plenty opportunities for that. So currently CEH is having version 10 which is the latest version of CEH.
There are many job opportunities of EC-Council's certificate holder as their degree is valid globally. The minimum certificate you have to hold to build up a career in cyber security is CEH (v10) which is the latest version of certified ethical hacker. You can get hired by different companies and they will give more priority to CEH.