Experience the Best Android Training in Noida
GICSEH, an institute that offers the best training course for Android. The GICSEH courses in Android have been specially designed by industry experts. The expert curriculum and great faculty have made GICSEH as the best institute for Android training courses in Noida. With a lot of emphasis on practical learning and projects, the students are able to learn Android very well. It is for this reason that the Android course at GICSEH is the best and GICSEH is regarded as the best training institute. With a single-minded focus on learning, the Android training course at the Global Institute of Cyber Security and Ethical Hacking is a must for any student and professional looking to learn Android.

Android was primarily designed for touchscreen mobile devices such as smartphones and tablets. A lot of the development of Android was inspired by Apple's iOS and iPhone. The development of Android was led at Google by Andy Rubin.

Android has been expanded by Google. Android TV for televisions, Android Auto for cars, and Wear OS for wrist watches are also developed by the Google. These extensions of Android come with a specialized UI (User Interface) specially designed for these use cases. A lot of variants of Android have also been used in game consoles, digital cameras etc.

GICSEH is the best Android course helps the students to learn Android and develop multiple Android Apps on their own. In the Android course, GICSEH's specifically designed curriculum will cover – Layout and single screen apps including both horizontal and vertical layouts, Text view Button, Image Button, Toast. This course will also cover Intents and Multiscreen Apps, more complex Apps using List View, Adapters, View Group, Radio, Bundle Menu. GICSEH expert faculty will also cover Multimedia Apps and will also help students to learn how to add logic to Apps. GICSEH's courses are the best in the industry and are considered as the hallmark of practical knowledge.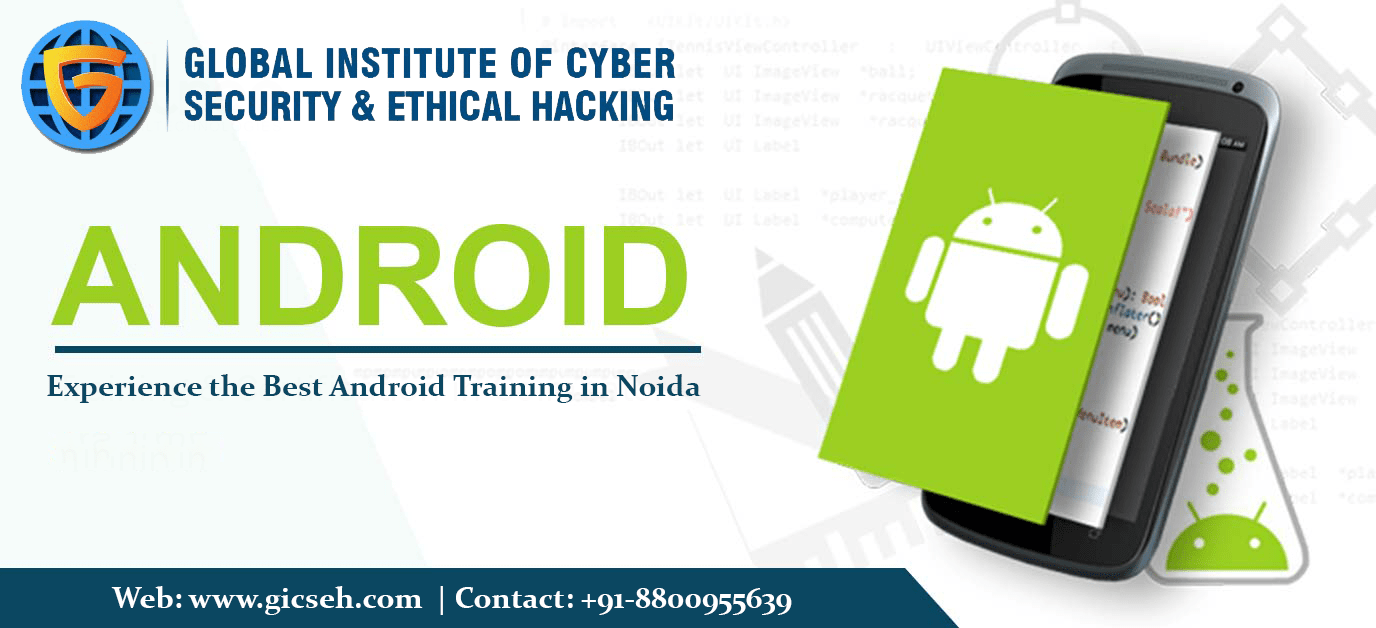 The Important Facts About Joining Our Android App Development Course in Noida!
• This course is meant and useful for anyone interested in learning android application development from scratch.
• This training mainly focusses on the beginners, so no previous expertise is required to master this course.

GICSEH has The Well-Planned Curriculum as Per the Industry Trends!

What is the target audience?
• Anyone who is interested in android application development either for learning purpose or for job.

You can have the experience of the working of an Android app along with these features with the Android Training in Noida at GICSEH!

With all the features that make programming in Android an easy task, we also provides a lot of benefits to the developers who are looking for a career in Android App Development profile.

There are several training institutes in Noida that offer courses and programs in Android. A lot of these training institutes in Noida are close-by and it is tempting to join them and learn Android from these training institutes. But are the Android courses offered by them the right choice? Do these Android training offered by these institute help the students and professional learners achieve their goals for Android? The right way to learn Android or for that matter any technology like Java, Python, Spring, Hibernate, Angular, Big Data etc is a mix of strong focus on theoretical concepts along with lots of well-structured practical programming followed by multiple projects. This is the approach followed by GICSEH, the best institute for Android and other software courses. With its convenient, flexible and student-friendly approach, GICSEH is clearly the best way to learn Android in Noida.

There is a massive demand for skilled and trained Android developers. Companies have now created separate and specialized teams to cater to Android and mobile app development.

Noida is hub of educational institutes and other engineering colleges. The Institute is fully geared to embrace the innovations and advancements in the field of Cyber Security, and incorporate the same in its teaching and learning schedules.

GICSEH also offers best the software training courses in Java, Advanced Java, Java Frameworks, Python, Data Sciences to students and professionals. Lots of professionals from leading software companies also study at GICSEH to enhance and grow their career. The curriculum at GICSEH is specially designed by industry experts. With hands-on practical knowledge as well as developing projects combined with strong theoretical concepts, GICSEH students are very well placed to do well in the world of technology.

There are a lot more than this for an android app developer which you can only explore with the right Android Training in Noida with the Global Institute of Cyber Security and Ethical Hacking.

Get in touch today!!