How can digital marketing strategies help to boost up brand awareness?
In this digital era, brand awareness is the essential key for any brand's success. However, it is also a tricky element that is hard to define. Brand awareness is all about establishing product recognition by its name. It helps the production of a brand to shine out from the competition. In this digital era, the most powerful way to build brand awareness in the market is through digital marketing. In digital marketing, the techniques for establishing any brand value are more simple, affordable, versatile, and practical. Digital marketing is dominating the whole world with some tools and activities, thereby helping brand establishment. It is always important to pay attention to organic digital marketing activities for building brand awareness. The original value of any brand recognition is when the marketing is organic, not money-driven. Achieving organic results is not always easy; it takes time and strategies. However, customer feedback can affect brand awareness. For digital marketing strategies, customer feedback plays an important role. Before designing any digital marketing strategy, it is crucial to know about customer needs, likes, and dislikes. It is always too great to use paid promotion but in a limited way. Using paid promotions more than efforts-based strategies will kill the organic reach of the brand.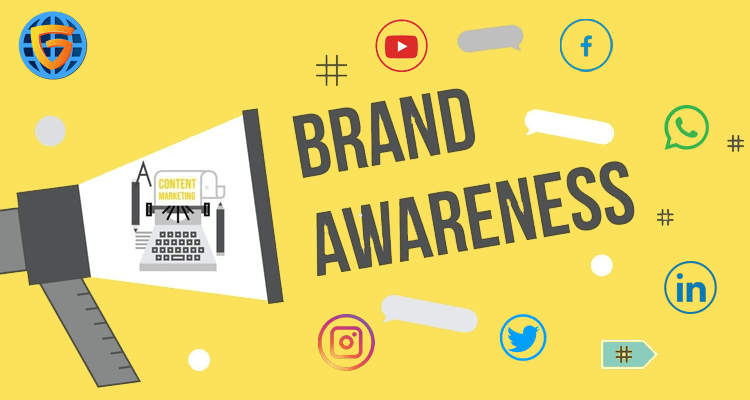 Strategies to boost your brand awareness

Influencer relationships
In the digital era for promoting the brand, the best method is influencer marketing. Reaching out to influencers means reaching millions of people, as all influencers have followers and fans who follow them and listen to whatever they say. This is something in human nature that if their idol is using something (brand/product), they also tend to use the same. Investing in influencers is more beneficial than investing in big stars as they charge less for promoting the brand. Whenever any influencers upload any video or photo of any product or service in a very creative way, their followers and fans will check it out.

Upraise the content strategies
All types of marketing, including video marketing, image marketing, and more, play a significant role in building brand awareness; however, content marketing is the decision-maker for any brand, whether to establish or shatter the brand. As many people like to read about the brand in detail, having a good quality of content about the brand and its service is important, as it directly impacts everyone that comes across it. Content marketing is a long-lasting effort; that's why most companies hire good writers for content marketing. Having good knowledge about SEO-friendly writing and the role of word limit in any article is also important to boost ranking.

If any brand wants to launch its product or service in the market by means of video marketing, it will perhaps become a long and tiresome video for customers to watch. This is where content marketing comes into the picture that helps explain everything smartly in a few words.

SEO Techniques
Every brand wants to maintain the budgets and use free tools activities for their brand establishment. SEO provides some activities that are free of costs, like submission and keywords-based. It is always important to do the activity in the right way to boost brand awareness.

These types of free activities in SEO take time to get desired results compared to paid ones, but results will last for longer. However, paid SEO activities also need the right implementation strategy.

Collaborating with other brands
Try to collaborate whenever possible, be it a small or a big brand, it will always help you reach out to a vast audience. Collaborating with other brands offers you an audience, promotions, social mentions, and many more things.

Conclusion
The strategies mentioned above will help establish brand awareness in less interval of time and at a budget-friendly cost. It is also important for a company to have a creative and innovative team, which can come up with new ideas for boosting brand awareness among the target audience and other companies. Knowing the audience's mindset requires a lot of meaningful discussion and research, so they work accordingly and achieve their brand value. In order to acquire the skills of a digital marketing expert, individuals need to complete a digital marketing course from a well-reputed institute. For those looking for a digital marketing course in Delhi, GICSEH, is the best place to learn digital marketing.

Join GICSEH today!!