Importance of Cyber Security Courses And Certifications
Today, the world is poised for a fourth industrial revolution. Technologies like cloud, internet of things (IoT), Big data, Data analytics and Artificial intelligence are taking the entire business world in their stride. Every company is looking for digitization and automation of its operations through these technologies. However, with all the advantages, there come some drawbacks like security vulnerabilities. These can create havoc. Trained manpower with Cyber Security courses and Certifications can only safeguard us and the businesses from cyber security incidents.

Cyber incidents remain as a top three risk in many countries. The acceleration towards greater digitalization and remote working driven by the pandemic is also further intensifying IT vulnerabilities.

Cyber Security Incidents is in Top 3 Risks
Cyber security incidents are one of the top risks if you ask any CEO or MD of the company. With Covid pandemic situation, work-from-home became the norm. For its obvious advantages, companies started implementing hybrid working policies: some staff at office and some staff at home. Though companies started this hybrid arrangement to face pandemic situations, it brought a lot of challenges with respect to cyber security. Managing the security perimeter was a bit easier, when people were working at offices. Now with people working from home, enlarge this perimeter manifold.

External incidents cause more losses. There are phishing attacks, DDoS attacks, malware or ransomware. Malicious internal actions and Accidental internal incidences also contribute to such losses. Out of these accidental internal incidences can be prevented. These are mainly human errors while doing routine operations, platform or IT downtime, migration related issues, corruption or loss of data etc.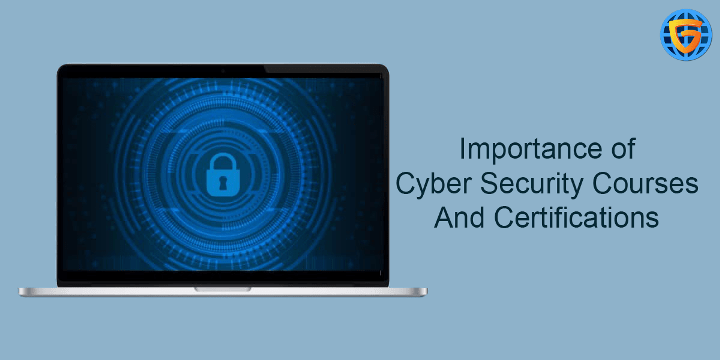 Responding to incidence: Cyber Security Courses and Certification
One of the effective ways to respond and prevent cyber security incidents is training. Proper training of employees and process adherence can significantly reduce the threat and impact of any cyber incident. For you know, phishing like an attack involves human error. Companies have to provide and manage network capacities for people working at home. They have to make arrangements for proper backups to limit the damage like in case of ransomware attack.

Increasing Demand for Cyber Security Courses and Certifications
As the world is moving towards more and more digitalization and remote working, vulnerabilities would keep on increasing. Every year hackers would invent new ways to sneak into the system by bypassing the controls. We have to make our policing stronger and deeper to protect our systems and businesses.

Currently, there is huge demand for cyber security professionals. You can start with a good salary package and grow further in this challenging career. You need to keep learning and keep yourself updated about the latest technology trends in cyber security. Hone your skills with in-depth training courses and pursuing global certifications. Cyber security is going to remain a rewarding career for the next 20 years. The Global Institute of Cyber Security and Ethical Hacking provides the best Cyber security course in Noida that combines numerous training topics and teaching tactics to help guarantee trainee preparedness and optimize your defensive responses. Our training incorporates maintaining physical security, password management, online security, malware, as well as phishing defense simulations, and much more.

It may be truly aforementioned that today's generation lives on the net, and that we general users are virtually ignorant, however those random bits of 1's and 0's reach firmly to our pc. For a hacker, it's a golden age. With such a lot of access points, public IP's and constant traffic and a lot of information to use, black hat hackers are having one hell of a time exploiting vulnerabilities and making malicious software systems for a similar. Above that, cyber-attacks are evolving by the day. Hackers are getting smarter and a lot more inventive with their malware and the way they bypass virus scans and firewalls still baffles many of us.

If you want to find out real hacking ideas and enroll yourself in Cyber Security Course in Noida then, contact Cyber Security specialists from GICSEH and take a step ahead towards a brighter future. We help students sharpen their interview skills, offer sessions on temperament development, spoken English, give-and-take, mock interview, and presentation. Join the best Cyber Security training in Noida provided by Global Institute of Cyber Security and Ethical Hacking Noida which equip participants with thorough information, knowledge and experience on the subject.

Our responsibility does not end after completion of the Cyber Security course and certification. We provide Cyber Security training courses with placement solutions to the students. Already, we have kept a moderate Cyber Security course fee to support students coming from all sections of the society.

Get in touch with the experts at Global Institute of Cyber Security and Ethical Hacking and take a step ahead towards a bright future in the Cyber Security world.

Join GICSEH today!!