Kickstart Your Java Programming Career With Gicseh
Java is one of the multipurpose programming languages required to form the foundation for almost every type of networked application. In terms of popularity, Java programming is regarded as the No.1 programming language because of its comprehensive degree for creating web content, embedded applications, etc. Being used by millions of developers all around the globe and being on the topmost to drive innovation, Java makes it feasible to efficiently evolve and employ exhilarating services and applications. Because of its high probability, security, and robust characteristics, Java is considered an everlasting programming language in the software development industry.

GICSEH, the best Java training institute in Noida, has come up with a well-planned syllabus to help students get the solutions to the most complicated software problems. GICSEH offers a comprehensive knowledge of Java programming through its customized course module of Java training, prepared by highly experienced industry experts to meet the ever-growing corporate requirements. GICSEH provides a very convenient and affordable way of learning and motivation discipline, resulting in the majority of people who completed GICSEH Java training in Noida reported career or educational benefits alongside tangible benefits, including getting placement in reputed companies. Therefore, GICSEH is undoubtedly the best training institute in Noida, which provides the best course module right from the basic to advanced level of Java programming, adopting several techniques and methodologies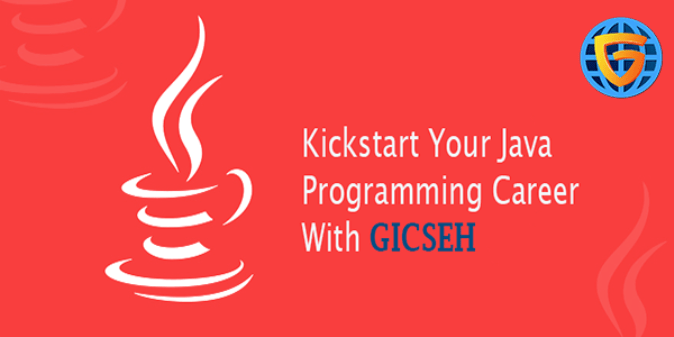 In Java training at GICSEH, the syllabus of the course module has been designed properly to be skillful in a myriad of essential tools, such as Java programming, Java development, etc. The course module includes hands-on training with live scenarios that can assist students in building up the confidence to work in any working requirements, along with acquiring industry experience. It will eventually help in keeping students up-to-date with the latest changes in the industry, imparting them quality education and training through industry expert trainers, who will guide the students throughout the training to make them prepared for their future dream job.

One of the best advantages of learning Java Training in Noida at GICSEH is the trainers' profile. The trainers at GICSEH are highly experienced and have acquired complete knowledge in Java technology. They are highly experts in Java technology and provide training considering the ongoing demands of the industry. At GICSEH, students are provided interactive training sessions digitally with an opportunity to grab the knowledge by putting their skills on instantaneous Java projects.

The complete responsibility for the training of the student is held by GICSEH passionately. In the Java training program, the students are trained from the basic level to advance in a real-world environment. By joining the Java training program offered by GICSEH, one will get a detailed understanding of subjects with hands-on practice, leading to an increase in experience and confidence.

No doubt, Java programming is one of the leading programming languages preferred by youngsters worldwide to make their stable career more certain. However, there are certain other aspects that encourage students to go for Java programming. To begin with, Java is a secure language that comes with the idea of a Multithreaded Program. Although versatile, Java is simple to style, object-oriented, and works in an exceedingly distributed environment.

Java is the most desired high-level coding language in the IT sector globally, which, no doubt, will be in high demand in the future as well. With the introduction of the latest technologies in the market, there appears an incredible increase in the demand for Java developers, resulting in a huge career opportunity for certified Java professionals worldwide. To make a career in Java profile, one needs to possess intensive information of the core as well as advanced Java programming. Hence, an individual should enroll himself for the Java program training from a well-recognized Java coaching institute.

Java professionals might be offered a decent package during the beginning of their career; however, they are entitled to get satisfying pay with the increase of experience. An individual who possesses proper technical knowledge with a valid certification of Java training from any well-reputed institution like GICSEH can definitely grab a fantastic job opportunity in the Java profile. If you are looking for an affordable way to get started with the Java programming language and be taught by Java industry experts, no look further. GICSEH has created a Java training program in Noida.

Get enrolled for a Java training program batch at GICSEH and reach out to the experts at GICSEH for any assistance you might need.

Be a JAVA expert with GICSEH.

Join GICSEH today!!