Know About The New Protocol Of CCNA- Cisco Discovery Protocol(CDP)
Cisco Certified Network Associate(CCNA) is the entry-level certification offered by Cisco, which permits a professional in understanding, installing, configuring, operating, and troubleshooting the routers and switches in the networks. The process also comprises the authentication and execution of network connections using remote sites by way of Wide Area Networking.

In the field of hardware and networking, all around the world, one of the most popular and everlasting Information Technology certifications is CCNA certification. A certified networking professional requires to install and configure networking infrastructure to keep a balance with constantly changing business requirements. With the CCNA certification training, students will be equipped to install, operate, configure, and verify an IPv4 and IPv6 network, including configuring a LAN switch, IP router, connecting to a WAN, and finding out any elementary security threats in the network.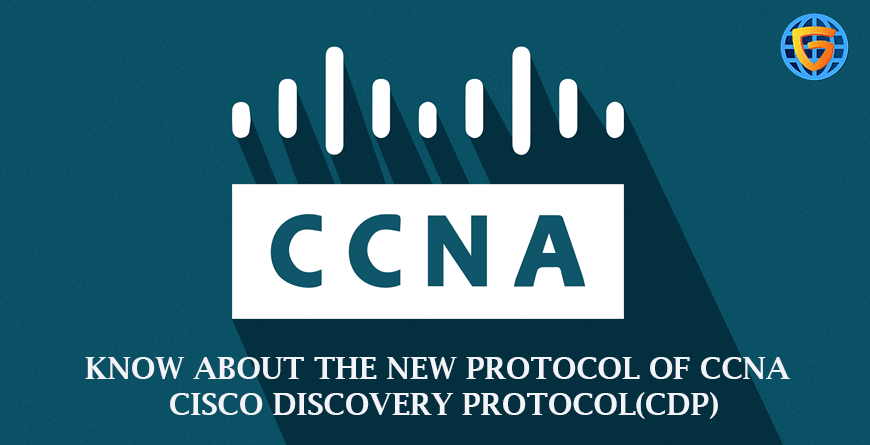 In the new CCNA, many protocols, networking devices have been introduced which students need to study thoroughly. However, the syllabus of CCNA will be based on Addressing, Data Schema, Device, Protocol, etc. Cisco Discovery Protocol (CDP) is one of the latest protocols being introduced by Cisco to discover the networking route. CDP can be used to find out which interface is connected to the other among multiple remote devices. Furthermore, if there are multiple devices, including switches, firewalls, routers, etc. connected, in such a case, CDP can be used preferably. To get the brief information about all the connected devices, simply use command # show CDP neighbor, which enables you the output, facilitating to configure, maintain and troubleshoot the wide-area network.

To maintain network efficiency, it is significant to keep network inventory up-to-date. The CDP is a network discovery tool, helping network professionals to discover neighboring Cisco devices, especially those functioning lower-layer, transparent protocols. In addition, CDP is Cisco's proprietary Layer 2 protocol, enabled by default on every Cisco equipment and runs on all LAN and WAN mediums, supporting Subnetwork Access Protocol (SNAP).

CDP packets, to discover, are transmitted to a multicast address every 60 seconds with every enabled device with at least one IP address, receiving SNMP messages, which can include information related to the hardware platform, IP addresses, hostname, and the active interfaces of CDP devices, if any. However, the information of each message will differ depending on the device and version of the operating system. In order to run CDP, the interface must support SNAP.

Since CDP is a discovery protocol tool that makes it easier to keep Cisco network devices' inventory up-to-date, it only permits for Layer 2 discovery of physical connections. It is advisable to use a networking monitoring section that includes Layer 3 and Layer 2 discovery to acquire a more granular view of network topology, including Cisco equipment. It may provide log files and insights into the availability of all devices in the network, including device status, time to respond, and downtime.

CDP allows abundant benefits to service providers who need more range of vision into their network, including, use of different network-layer protocols and simultaneous transport protocols to identify and configure active devices, finding the IP address of a misconfigured router or switch on the other end of a WAN link and troubleshooting the Type-Length-Value (TLV) fields.

While Cisco Discovery Protocol should be activated on all routers, therefore,
● Use the router (config) # cdp run command, to enable Cisco routers, and
● Use the router (config) # show cdp command, to see the CDP configuration.

CDP, being a Layer-2, media-independent, and network-independent protocol, not only permits you to ascertain which Cisco port is connected to a specific remote switch but also examines Cisco switch properties, including the software version and device ID. Although the transmission of native VLAN information between Cisco switches is prevented by CDP Version 1, Version 2 can transmit native VLAN information.

Cisco Discovery Protocol (CDP) can be used as a demonstrative instrument to help troubleshoot device and network-related issues. With Link Layer Discovery Protocol (LLDP) version IEEE 801.1ab, third-party devices can also transmit information to network devices.

If anybody wants to commence his career in the networking industry, he can take the Networking Course at GICSEH. However, if you are already working in the networking industry, enroll in CCNA Training in Noida at Global Institute of Cyber Security and Ethical Hacking GICSEH which will enable you to clear the CCNA Certification more confidently, thereby gaining the best knowledge required to excel in your job and career.

Get the CCNA training in Noida at one of the topmost institutes of India, GICSEH.

Join GICSEH today!!