The Leading Institute for Python Programming in Noida
Python course in Noida, provided by GICSEH, is designed on the basis of Industrial Requirement with Live Project. Join the best Python Training Institute in Noida with 100% Job Assistance. GICSEH has a team of highly experienced professional faculty with years of experience in Python programming and other related python technologies.

Our trainers are fully aware of industry requirements and are ready to deliver comprehensive, industry-based Python courses to students around the world. We at GICSEH provide our students with a perfect platform to learn and explore the subject from corporate trainers & industry experts.

As the leading Python training institution in Noida, GICSEH offers the best Python course in Noida under the mentorship of the most experienced professionals. We always look forward to providing an affordable Python course in Noida with perfection and without compromising on quality.

We should also ensure that our students are always ready for cracking the interviews at the end of our training program as our Python training programs have been designed so that we can easily help our students secure the required internships. Our faculty members are eager to provide complete assistance and support to the participants joining for Python Program.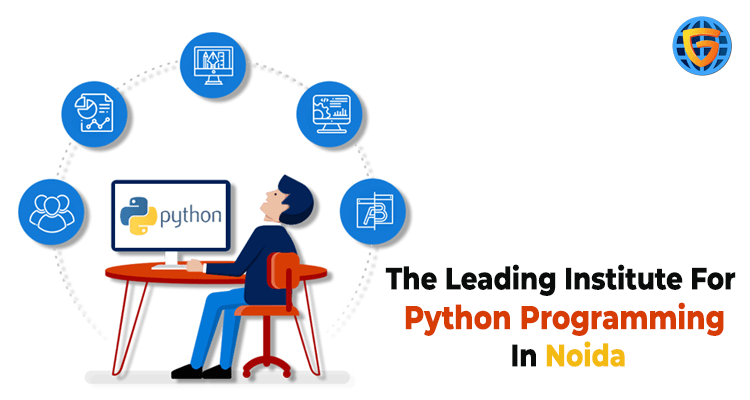 At GICSEH, we offer our students with classroom training, corporate training, and training in Python Program. We run batches for weekdays and weekends that help our students choose affordable bundles based on their needs. Welcome to the board and join The No.1 Institute of Python in Noida, GICSEH.

As the best Python training institute in Noida, we have designed our Python curriculum in such a way as to meet real-world requirements for freshers and advanced learners. Our Python course is designed according to the current IT industry standard with live, project-based training. At GICSEH, we offer a comprehensive and one-to-one python training program to our students. We cover all Python-related topics more practically and easily manner with relevant examples. We assist our students to dream high and how to get to the destination. Welcome to the board, enrolled with us for the most demanding skills in the world. Python Training Institute in Noida, GICSEH will help to make your career to a new height.

People looking for a Python Training institute in Noida will seek an institute that has the perfection to train the Python to their Students with relevant experience. Our faculties are well established in providing basic Python training and expertise. Even when you start to learn Python at the beginner level, you will become a python expert once you complete the Python Certification from GICSEH.

Python is referred to as high-level, interactive, interpreted, and object-oriented script language used by developers. Python is designed in such a way that it is easy to understand and a highly readable programming language. Python typically saves half of any developer's development time because it has very easy-to-read syntax and an easy-to-compile function available. Additionally, Python has huge libraries that support data analysis, manipulation, and visualization. Therefore, Python is the most preferred language among IT Candidates and is considered as the "Next Big Thing" and a "Must" for IT Professionals in the world.

Programming in Python is Interactive- Programming in Python is interactive where the user can sit at a Python prompt and directly interact with the interpreter to write programs.

Python Programming is Interpreted- A user can process python language at runtime. Python is very much similar to PERL and PHP, which does not need to compile with any program before executing it.

Python is Object-Oriented Programming- Python supports the Object-Oriented programming style which expresses code in objects, so objects and classes can easily be created.

Python is a programming language for beginners- Python is a very useful language and a "must" for programmers who support the development of a wide range of applications from simple word processing to browsers and games.

The Python programming in Noida designed by GICSEH is entirely based on the current industrial need of companies with live projects where you are offered comprehensive Python training in Noida from fresher to advanced level. Join Now!

Join GICSEH today!!