Learn all about Android and Boost your Career
We are living in a world where we can do everything with the touch of a finger, Android made our life easier being a user today from booking cab to ordering our meal or taking appointments to buying grocery everything can be done through apps and this versatility of android changed the career opportunity of developers, as we know android is an open source software (OSS). You can easily learn and become an android developer and boost you career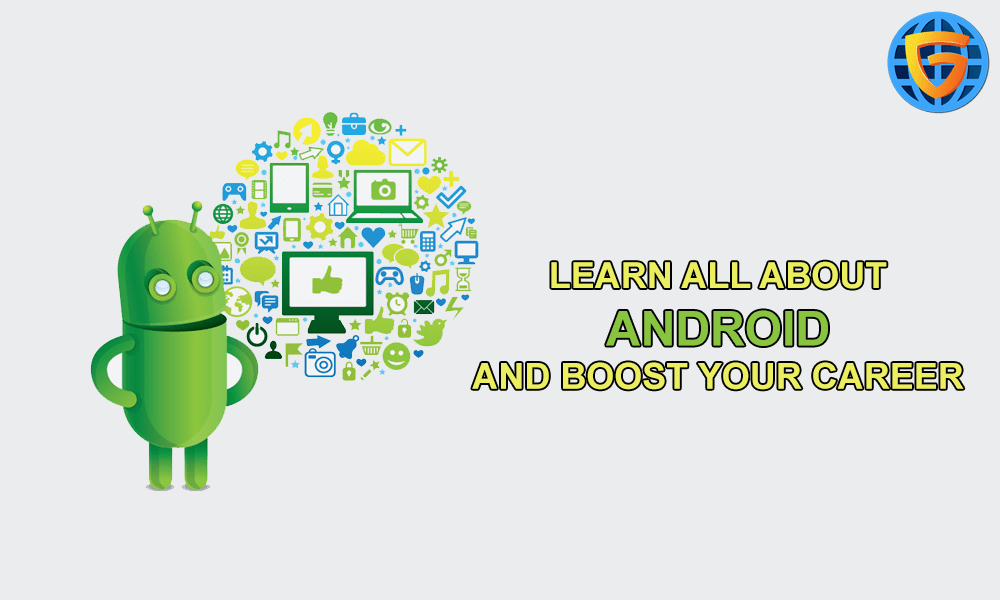 WHY GICSEH IS BEST ANDROID TRAINING INSTITUTE?
Global institute of cybersecurity and ethical hacking is a reputed Android training institute in Noida, which has extended its powerful training resources in Noida and other cities as well. The reputation that the GICSEH in Noida has gained is due to delivering industry-based and skill-based android coaching to its students. GICSEH practices a detailed study of Android theory opts for industry live projects during lab practices and specialist trainers' self-developed lab projects for skill enhancements. The lab practical Android classes here is incorporate trainer's self-developed real-industry project's complications, which students are supposed to resolve using their learned capabilities. These types of special classes help students to gain self-confidence on technical problems and helps them in learning different techniques. Our advance practice sessions enable competitors to become a potential candidate during interviews. Global Institute of Cyber Security and Ethical Hacking in Noida has an excellent IT foundation that assists trainers in imparting systematic coaching related to the Android technology to their students. Our Android course equips students with better planning ideas, quick implementation techniques, and excellent hands-on coding. GICSEH begins its course basics to advanced level training.

Our course never takes a halt after completing an advanced level, we move ahead to expert's level and industry training. GICSEH delivers knowledge, skills, and to experts' level and industry training. Participants having a basic association with computers and wish to play an important role in the Android industry can do well. This course will cover, all important segments of android app development including Android architecture, setup of environment, user interface, resources, Media API, etc. Please have a look into the course and syllabus section for further details.

CAREER YOU CAN CHOOSE AFTER ANDROID TRAINING
Quality Training is our first priority. GICSEH trains students and provide skills of programming, reading, and writing Android's complex coding along with visualizing the user-friendly interface. Our expert Android training faculty in the institute put their hard work in strengthening learner's potential by assigning them with Android programming challenges during their advance android practices. Learners after finishing Android training are skilled to provide their services coding for Linux Kernel, app frameworks, SDK installation, activating components, UI events, creating graphics and animation for an app, and so on. Please have a look at the course section and contact us for more information about the course.

ARE YOU ELIGIBLE FOR ANDROID TRAINING?
GICSEH appreciates your qualification and past expertise but they believe in learning from basics and their course is made for both advance and basic learners so there is no issue if you are not from this background here you will learn from basic and it would be great if learners are having basic information about computer hardware and software applications that can be proved as a plus point for registering into Android program. However, continuity in practice and learning is advised to become expert professionals in the Android field. To be precise, GICSEH android training is developed for every learner, who wants to add some value to the industry and his or her career. GICSEH in Noida seeks affordable Android course fees from the students. Therefore, freshers from any subject stream or students want to become a programmer, developer or engineer, or qualified professionals want to enhance their expert level in Android skills, can join now.

WHAT JOB OPPORTUNITIES YOU WILL GET IF YOU DO ANDROID TRAINING?
As we all know android is taking over every industry and this increased the opportunities for many android developers to make their career, the whole industry is shifting from web interface to android apps, industrial sectors such as media and entertainment, railways, tourism, hospitality, Hotel booking service etc. are hiring Android developers for their business development or projects and GICSEH holds the best placement track record in top MNC's and within the course, they offer 100% guaranteed job assistance. If you are willing to boost your career in the field of android development you must know about the average salary of an Android programmer starts from 4.8 lacs per annum. These days, companies are proposing a very impressive compensation package along with striking incentives to the fresher's completed and holding android training certificates, since the companies demand the best Android developers for the development of their companies.

Join GICSEH today!!