Most In-Demand IT Skills of 2020
The stiff competition in the IT sector is a matter of worry for various new entrants in the industry. Existing players who have three years or more experience continue to scramble to adapt to continuous industry changes and skills demanded. They had to learn and develop new skills in order to survive and maintain themselves in the forefront. Its highly important that you remain competitive and be aware of the technological changesin the IT sector. People who update and broaden their skills to match industry demands achieve success in their careers in very less time.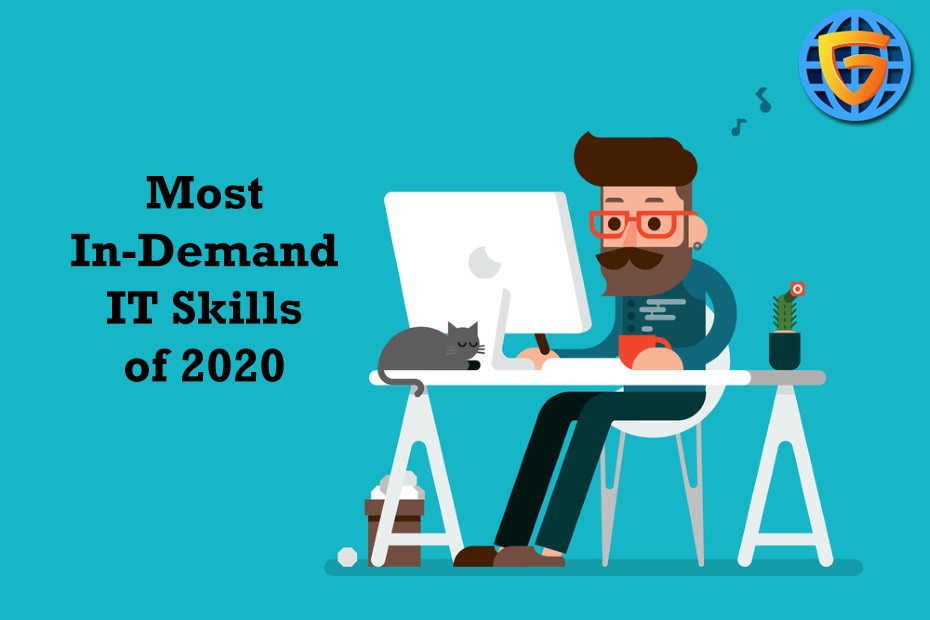 So, here is a list of Most demanded technological skills of 2020 to upskill your career:

Cloud Computing
Cloud Computing today, is the most demanded skill in the IT companies in India. There is a huge demand for Cloud Computing experts who have related experience.
Cloud Computing is all about Internet. From storing data or retrieving services like using map to find a destination, it all works through cloud computing. It is like a centre of data available on the internet used for various applications and services. It eliminates the need for accessing files locally through host computers and allows a central access of data.
It is interesting to know that the devices connected and using cloud services is increasing exponentially in a very short span of time. And, this is opening up new job opportunities in the sector.

Digital Marketing
As every business, whether small store or a big company, started to sell its products and services on the internet, it had led to an increase in the promotional activities online. And, here comes the role of digital marketeers.
Businesses now use online sources to promote their brands through Digital Marketing Agencies and companies. Digital Marketing is simply to promote products and services through various online platforms to reach and attract maximum customers.
With increase in marketing efforts online, A large number of Digital Marketing companies and agencies a have evaded the industry, creating a huge demand for digital marketeers.

Data Science
Data Specialist or Data Science Expert job profiles have an increase in their demand as companies started to backup and store large amounts of data online. This highly sensitive stored data is needed to be sorted and analysed carefully. A number of scientific processes, methods, algorithms and systems are required to manage data in the databases.It is important to know that over 84% of organizations have launched Data Science implemented analytics tools to boost their decision-making process and ensure increased accuracy. So, IT professionals who are expert in Data Science and Management are required at a large scale to manage the ever-growing data.

Artificial Intelligence
Artificial Intelligence or AI (as it is commonly called) is an enormous transformation in the IT environment. It is the most talked-about topic because of continuous advancements in this field. Artificial Intelligence provides machines with the capacity to do tasks like humans do. It empowers machines with the ability to think, reason and correct itself by analysing data captured by it. It can be commonly seen today in chatbots and speech recognition systems which use AI technology.
More and more people are attracted to this technology and are eager to learn it as all devices, applications, services, etc will be based on the AI only. As it is advancing in development, its usage is also rising at a large pace.
There has been a steep rise of 60-80% in the salaries of AI Jobs. The major companies which make use of AI are ecommerce platforms, commercial banks, insurance companies, retail chains, telecom companies and various MNCs.

Software testing
Today, every software application which is developed or updated needs testing to analyse its overall functioning and performance. Various bugs in source code need to be reported and rectified. And, this is the job of a Software tester. Ultimately, it helps to check how a software program meets its end user's requirements. It also evaluates what needs to be improved. Moreover, it reveals security vulnerabilities and threats that may compromise user's data or hamper user experience.
IT Companies attract more and more software testers who are well-qualified and knowledgeable. Knowing various programming languages is just a cherry on the top.

Mobile Application Development
As mobile users grow around the globe exponentially and Mobile markets are on fire scrambling to get market share, the demand for mobile application or mobile app development is in huge demand. There are numerous IT companies developing different mobile apps for a variety of businesses organizations and start-ups. And, these companies constantly look for professionals who are skilled in application development for Android as well as IOS. This is a very fast-growing industry and opportunities are endless based on your individual skillset.

If you are interested in learning any of these skills and get expert training from experienced and trained faculty, then join GICSEH. We have the best faculty in the industry to provide you with all theoretical and practical knowledge. We also offer 100% placement assistance
Join today !!