Python Career Scope In India
Python is a high-level programming language with versatile and object-oriented features holding dynamic semantics for application and web development. Users tend to learn the programming language fast and stress-free with the help of its modular style design and unique syntax. Developers may find that the Python programming language is easier to read and decode their code than other languages.

Definition and job responsibilities of a python developer

When Python developers work as Web developers, they are still responsible for building server-side Web applications. A Python developer integrates web applications and web services by developing different back-end elements, which means, he deploys and debugs the project. After the introduction of data science, the salary of a Python programmer in India has increased considerably. At present, the demand for salaries of full-stack Python developers in the Indian market is increasing rapidly. Python is best suited for the most controversial languages, and it's hard-line competitor JavaScript lags behind Python. GitHub also puts Python at the top of popular competitions.

Benefits of learning Python

You can complete your Python program with a simple code particle. Universities adopt Python programming language for development and research processes in various disciplines, including Artificial Intelligence and Robotics systems. Python holds plenty of values for data visualization, where it contains a library, aiding to cater to every prerequisite easily. Python is one of the most accessible languages to learn and understand, which is the best for scripting. Python is highly extensible and flexible. In order to make the users' work peacefully, it includes a lot of testing frameworks.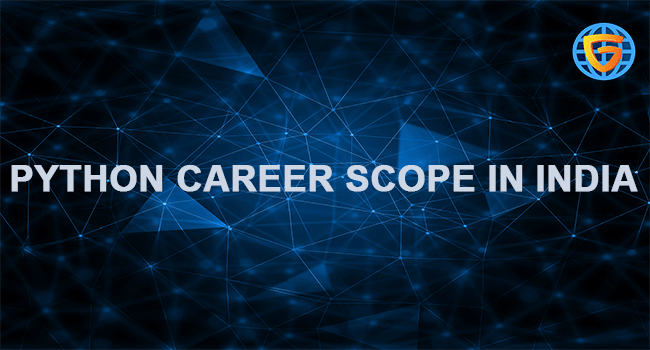 Job Roles of Python Developers

Artificial Intelligence and Machine Learning
Machine Learning and Artificial Intelligence have turned into umbrella terms for various applications applied to technologies and disciplines. Some of them also include chat robot development, Web development, data analysis, robotics, intelligent application development, etc. The Machine Learning and Artificial Intelligence Engineers are responsible for fine-tuning the results acquired in the test alongside dealing with frameworks and doing statistical analysis. They are also responsible for designing programs using machine learning and retaining and training systems. They undertake various tests and experiments using Machine Learning and Artificial Intelligence. They are also entitled to study a profound learning system to several real case scenarios depending on the requirements of the business, implementing the correct Machine Learning/Artificial Intelligence algorithms.

Data Scientists
Data Science is usually statistical data processed by programs. Governments and companies are looking for certified data science experts for their companies. If any enterprise faces any problem, like national security threats, easily share and extrapolate insights, Data scientists can help them resolve that problem. Data Scientists with business stakeholders work to recognize the right goal or business of a company and present the right strategies in the right way using the data to achieve the primary goal. They will create, design, and develop data modeling processes, predictive models, and algorithms to extract business requirements. When information can be shared with colleagues, it helps in data analysis. As far as the job and responsibilities of Data Scientists are concerned, Data Scientists are required to ask several questions related to a business to recognize the correct discovery process. Once they obtain every data, they need to process, combine and store the data, then explore the data analysis by way of detailed data investigation. Data Scientists should make use of data science techniques and methods, like Artificial Intelligence, Statistical Modeling, and Machine Learning. They need to track and enhance and finally provide the final success results to the business stakeholders. However, if the business stakeholders find any issue related to the result, Data Scientists are responsible for making necessary corrections or adjustments as per the business stakeholder's feedback. Data scientists are widely regarded as data scientists, data engineers, data architects, data analysts, and business analysts.

Python Django Developer
Django is one of the open-source, high-level Python web frameworks created to accomplish the deadlines and satisfy the comprehensive requirements of a web developer. Python Django provides a practical design, delivering faster development. For its flexibility, scalability, reliability, and simplicity, more companies are making use of Django. The job responsibilities of Python Django Developers include designing and building AngularJS Applications, creating several software products with cloud-based Python Django. They need to note efficient, testable, and reusable code, integrating user-facing elements created using server-side logic by front-end developers. Python Django Developers execute data protection and security, combining various data storage solutions.

Not yet decided which career you want to go for. Well, when you wake up, it's morning. Start building up your career with Python by enrolling for a Python Course in Noida at GICSEH.

Join GICSEH today!!