The Future Of Android Phones Through Android Training
The age of the Android phone is fast dawning…and most of the applications are freely available for all the users. Android phones have feature-rich applications that are not included in other mobile phones and are ready to take on the market and this gives you a heads-up to tease other phone users. An interesting feature of the Android is that it offers multiple levels of volume for the various functions of the phone.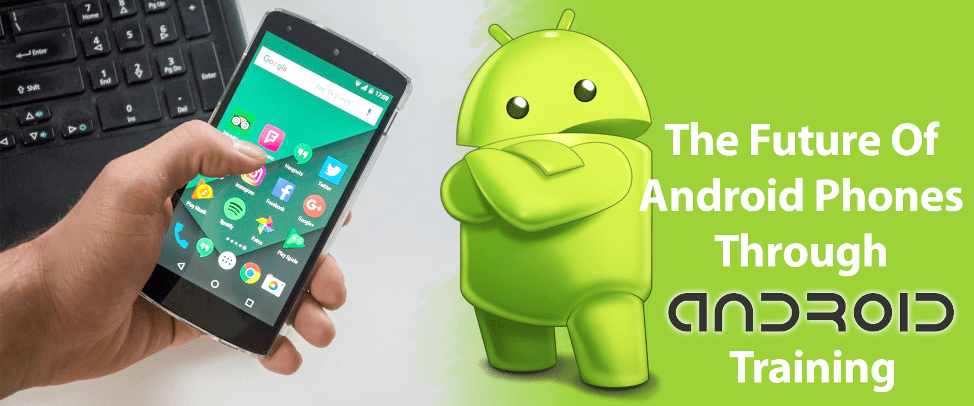 What Does The Consumer Want?
The system, which is developed by Google Android, is for manufacturer of mobile phones to help compete with Apple's iPhone. The Android is being seen as the strong competition from Apple. Everyone needs something which is more intelligent and competent into their price range and Android offers that. What do you need on your phone? Actually a thoughtful question to consider when it comes to mobile phone users is for an update. With the Digital India initiative and Pandemic, people are more inclined to digital platforms. So, the phone manufacturers need to come up with more engaging and mind-twisting apps which will keep them hooked onto their phones.

With that demand, Android training comes in handy which helps you to be at present and be involved in the future building of Digital India. People began to want to take photos, text messages, listen to music and internet access that's how Instagram, Pinterest, Wynk, Spotify, Snapchat, WhatsApp came because it was a daily requirement. You can play games on your mobile phones, check weather and a series of activities, and make calls. You can do all this and build much more if you choose Android as a language.

Why You Should Choose Android?
The reason is cost saving, efficient, time saving, high ROI that several mobile phone manufacturers have adopted the Android operating system on their phones. It is fact that Google's Android phones are all over the cell phone market. As one of the best phones available with Android, the Samsung Galaxy series has created a lot of hype. This entry is made for the price-conscious buyer who wants all perks on Android phone and doesn't want to pay in dollars.

Starting your career in Android App Development Course will assist you learn the basics of Kotlin, Google's preferred programming language for Android and build interesting applications. The course will cover the Android components, tools and technologies like multi-screen Navigation, Android Studio, Intents, Fragments, Widgets, Layout and Ionic to create modern applications. The course will enable you to use architectural techniques to create user-friendly and interactive applications.

Android Development is one among the trending domains of programming because it holds the bulk market of today. The key and path to becoming a successful Android app developer is getting the foundation right. The course will assist you in utilising the proper tools and technologies to create user-friendly applications from scratch, easily. Learn the core concepts of designs, menu, intents, activities and testings with the advanced database and libraries. You'll find out how to effectively cooperate with the lifecycle of Android activities. By the top of the course, you'll have successfully created an Android app using Kotlin and you will have a solid grounding within the fundamentals of Android app development with Kotlin.

What Android Development holds for your programming future?

Skill Enhancements
The Android Development Course allows you to advance your knowledge in Google's preferred programming language, Kotlin. The course will give insights on GitHub, Android Studio, Vital Android SDK, Loops, Lists and more components which will assist you up-skill and master the OS sort of a professional.

Job Prospects
Developers are in high demand, Android dominates the mobile device market, Google has improved its once saturated Google Play Store. There's an outstanding opportunity for Android developers to achieve success over subsequent few years. Through this course, you'll explore the dynamic professional opportunities sort of a Mobile Application Developer, programmer, Android Developers, Java Developers, Engineers, Mobile programmer and more.

Career Advice
Android Developers demand as mentioned above is increasing day by day, Android dominates the mobile device market, Google has improved its once saturated Google Play Store. There's an outstanding opportunity for Android developers to achieve success over subsequent few years. The Scope of Android app developers has increased and can increase within the coming years in India.

Companies who hire Android Developers
Amazon, Flipkart, Google, Microsoft, Facebook, Goldman Sachs, TATA, Infosys, Myntra, LinkedIn, OYO, Zomato, NIC, Govt. Companies, RBI, ICICI, Reliance

And the list is never ending. Everyone needs an Android Developer. The biggest demand of Android Developers is coming from Start-up Community

Android Training In Noida
● A neat syllabus of an android development course that can guide you to find out android programming.
● Necessary Software and Internet connections which can assist you with android programming
● Focus on practical labs to resolve your queries associated with android applications.
● Complete android tutorials for future use
● Interview preparation by our professional team
● Problem-solving classes at the top of the course.
● Live project work experience
● Certification and Job placement
● High-quality android tutorials prepared by senior android developers.

If you are looking for the Best Android Training institute in Noida, then GICSEH is the best place to start with. This is the best time to give a boost to your career, then what are you waiting for? Get in touch with the experts at GICSEH and join our upcoming batch.

Join GICSEH today!!