Top 10 Digital Marketing Trends of 2020
Digital marketing is made of two words, the first one is the digital and the second one is marketing. Digital marketing is a term that includes the marketing method under which you can promote your product and service by using digital technology.

In other words, we can say that when you use your medium and channel in digitally for marketing purpose then it is called digital marketing.

WHY DO WE NEED DIGITAL MARKETING?
There is no kind of doubt that the market has become increasingly more digital and technology. The reasons are, it has the potential to transform the way that you reach and engage your customers in a short period of timing.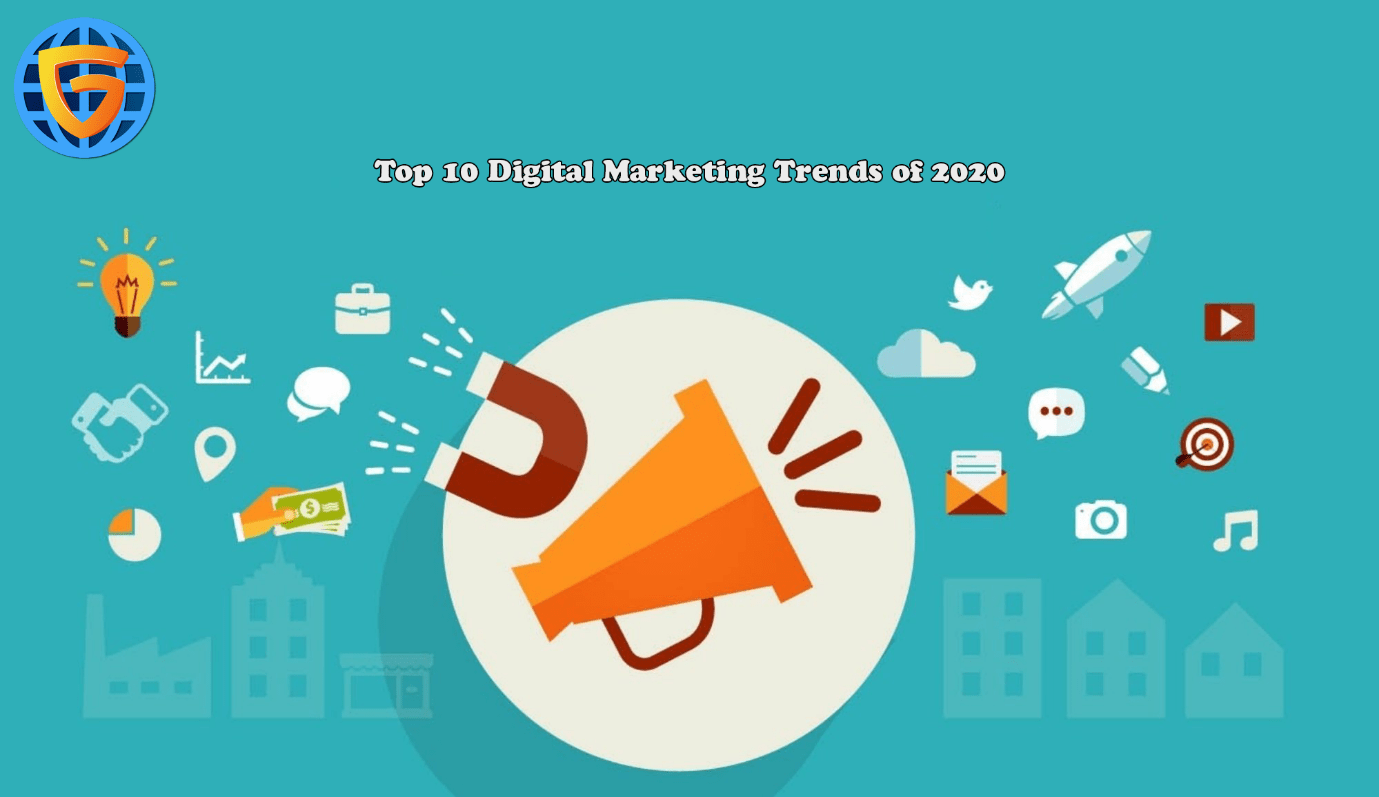 For small business digital marketing is just like nectar because under this you have an option to select the method of marketing according to your budget. It generates more leads and sells faster at a lower cost than the traditional market system.

How do you know your marketing strategies are working and you people are attracted to you or not?

Digital marketing analytics helps you to check out and determining your strategies is working if not then you can adjust your campaign according to your need or demand.

Digital marketing provides a high conservation rate because it can measure the conversion rate through real-time using a simple method. It can identify the viewer's percentage who are converted into a lead.

10 DIGITAL MARKETING UPCOMING TREND IN 2020
We took a look at what the New Year store in the digital marketing industry has. The market landscape is always constantly changing and if you missed it then you cannot take your business new height. To maintain the height of your business, you should be aware of the new trend of digital marketing.

Here the new trends in digital marketing that we share for 2020.

1. USES OF PRIVATE MESSAGING APPS
In the year (2020) many companies want to focus on how they can use the private messaging apps in a better way. Millions of people exchanging messages all over the world every day but how many people know what happens with their message when they send it. Every company wants to make secure their message, documents, information, etc which they share for official purposes.

2. EXPANDED USES OF ARTIFICIAL INTELLIGENCE
Artificial intelligence means that the conscience of a human being can think and put decision making power in a machine. It is the ability of a machine or computer program. It would be not wrong to call him the heart of global business because that machine that will be made into technology can act, think, and work as a human.

3. CHATBOT TAKE OFF
You will know about the chatbot, whenever you go on any website, a chatbot opens form the side and say "How can I help you?" It is very important because it creates lots of engagement on the website and if we say something then he replies by his artificial mind. Many companies use this chatbot.

The advantage of chatbot in digital marketing is it helps to save time because not like the human the chatbot quickly gives your answer which the needy quickly take the decision.

4. DEVELOPMENT OF DIGITAL MARKETING
The reason we seeing changes in digital marketing is because of adopting new technology. Digital marketing at a different level because the growth of digital marketing is happening day by day, people now think they can handle their business sitting at home by using updated technology.

5. PERSONALIZATION
If you want to stand 2020 and upcoming years then you have to personalization your market which means your product, content, email, etc. It simply means if you have not Personalization in your digital marketing strategy then you miss lots of benefits, is just like key to successfully marketing campaigns because with their help you can reach the specific group of costumer and by using collecting data from survey's, studies you were in better positioned to create more relevant and effective email campaigns.

6. NEW CONSUMER BEHAVIOR
As you know in a market customer is the king and keeping all old customers happy every business also wants to bring new customers. So, in today's get customers to choose your brand you need to make a positive impression and truth are in today's time customer contact with their brand by their honesty and after seeing their friendly nature, not by a political, emotional.

Every company needs the trust of its customers by digitally the reason is, in 2020 we'll see brand tapping more into the potential and interactive social media platform for more attention.

7. VOICE SEARCH
In a process of technology growth, we see lots of instruments which are the example of the latest technology like Alexa, Siri, Crotona, and Google. Voice search is the biggest transformation in the current time of technology and slowly in time to come, the prediction is that the search is going towards the voice search.

These kinds of voice assistants can read text loudly, even voice text message for you and the question is expected and straight answer is provided as close as possible to the right answer. It is useful and essential for business because it helping in the growth of a mobile-friendly and adding value if local SEO.

8. MORE FOCUS ON CUSTOMER STABLITY
We all know for the success of your business acquiring new customers to retaining their exiting once also. But the question is why?

Because this is the quickest and most effective way to increase revenue is through customer holding, as we know "customers are the king" that why the company's priority is retaining customers and building loyalty. Every company understands that it takes less money to keep their existing customers happy. Holding your old customers helps to increase revenue because when you keep your existing customers then they tend to tell their friends and relative also and give you referrals.

9. NEXT GENERATION SEO
Last few years we see lots of changes in the search engine industry and some updates constantly. In today's digital marketing world, the SEO sounds more in almost every business that why every owner of business shows their interest in search engine optimization for their website to hold top positions of the search engine results.

10. TRANSPARENCY
This is the growing trend of digital marketing and now it becomes of the way of the best brands markets. The subject transparency cannot be ignored in digital marketing because research says that most companies producing transparent and easy to retain information.

Get in touch today!!