Top Programming Languages You Can Learn In 2021
Programming became an important part of every industry, now we are living in the world of technology which relies on the base of programming, increasing technology every day brings numerous opportunities for programmers but the most important part is which programming languages help you in the long run in the fast movement of technology and work culture.

Companies are shifting their ideas and skills on a daily basis so it's necessary for programmers to be in the same pace with trending knowledge of programming and advance skill in the field of demanding programming language

Programming comes with multiple options and variety of language, whether it is Artificial intelligence or automation programming language plays the most important role, companies demands for most secure and understandable languages from programmer to work on their projects, so these are some of the demanding languages available at GLOBAL INSTITUTE OF CYBERSECURITY AND ETHICAL HACKING in NOIDA which will help you to grow in the career of programmer in 2021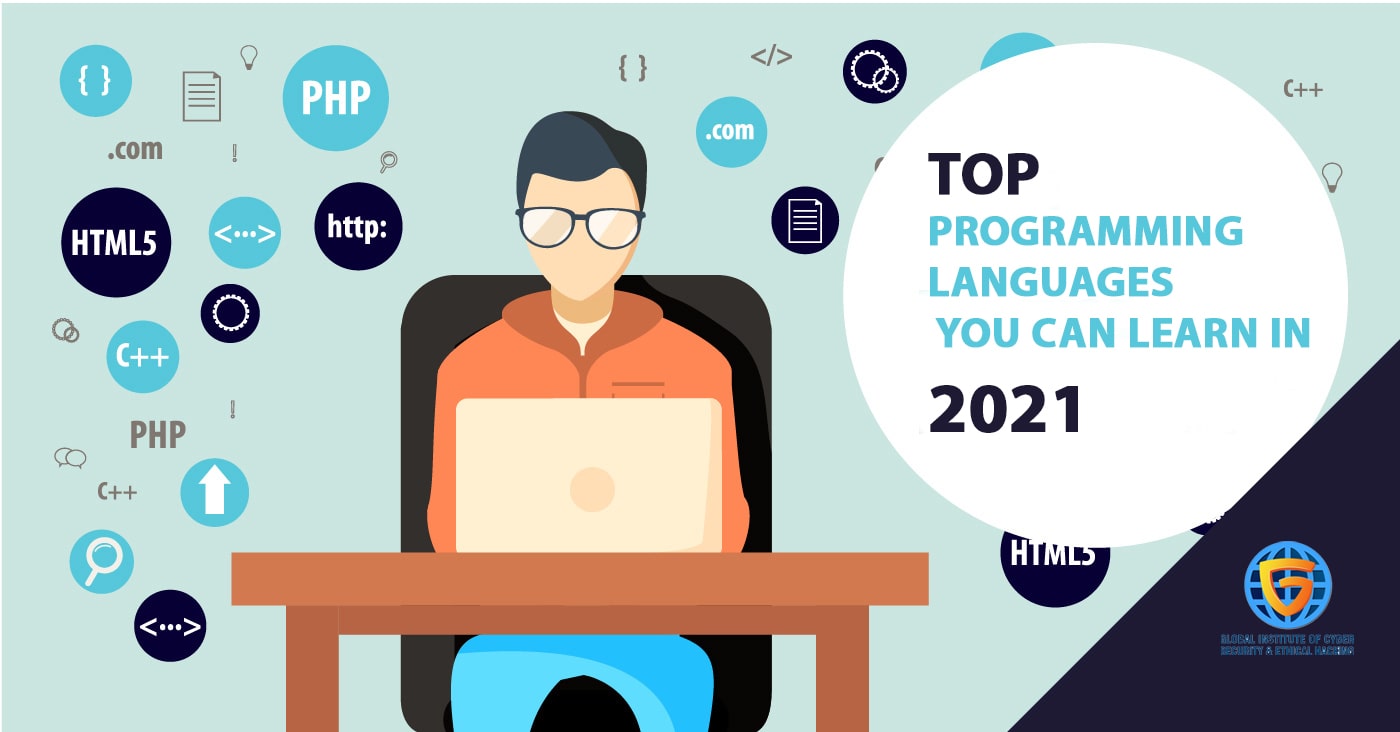 PYTHON
Python is a versatile and high-level language, today python is one of the most preferred languages in the market from machine learning, it has a wide range of application developments and highly encoded programming python is used everywhere by all billion-dollar companies and this provides a huge job opportunity for python programmers to grow their career.

JAVA
Java is simply known as the language of a web developer, Java is one of the foundation programming languages for the internet, despite being oldest programming language Java always holds its position at top of programming in every kind of web application and software development and its demand in the market, so Java programming will be the best option to start the career for a programmer to achieve many work opportunity.

C++
C++ is always in demand language due to its high performance and capability to create virtual reality and heavy games apart from modern mobile applications, C++ is well known due to its greatest projects like Microsoft windows and Google chrome both projects were developed on C++ programming language, C++ gives numerous opportunity to game developers and programmers and C++ programmer and developer are one of the highly paid jobs available in the industry.

PHP
PHP is a modern programming language, helps in creating websites and web application in very quick time, it is used by 80% of the web developers for dynamic and data-heavy websites. It is a simple and high-performance programming language with versatile tool usage, big companies like Facebook and Wikipedia are using PHP to run their web application, today PHP programmers are earning a good amount of salary and there are numerous job opportunity available in the market for PHP developers

SQL
SQL is a special programming language, its capability to interact with the database helped thousands of companies to create their own database, basically SQL works on analyzing and understanding the database consisting of a field of data within the table. For data analysts, SQL is a game-changer programming language, and we all know the demand of data analysts in today's work culture because every business and company rely on the database, companies like Amazon, Uber and Netflix use SQL to organize their millions of databases.

Join GICSEH today!!