Understanding The Most Crucial Elements Of A Website Design
If you are an entrepreneur, your website is absolutely one of the most important tools you have in your arsenal for getting better clients. So what is it that distinguishes a good website from a bad one? Let us discuss some of the most crucial elements that a website should consider exceptional.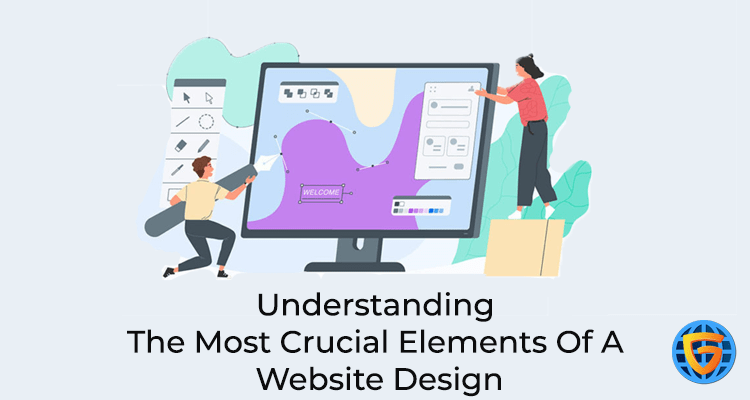 Easy to Navigate
The website design should be easy to navigate and all the items available on the website should be easily accessible from any page. The website should be designed in such a way that the viewer always knows where he is on the website and can easily move to where he would like to. Therefore, while designing a website, it is advisable to keep functionality in mind as there is a thin line between interactive data and boring data.

Visible Design
People are visible-oriented and using a great graph is an amazing way to make a website more eye-catchy. It is advisable that you should barely use content scrolling, animations, and flash intros in your website design and simply highlight a point to show maximum effect.

Content Writing
Content is the most crucial element of any website. It plays a big role in search engine ranking and is also a great source that enables visitors to search for your website beforehand. Therefore, make sure that your website text should be instructive, easy to read and brief.

Web Friendly
Besides, being informative, attractive, and easy to use, your website should be web-friendly too. It is important that your web designers know the keys to making your website work on every browser and should be well versed in SEO (Search Engine Optimization). There are many factors responsible for search engine ranking and the visual appearance of your site, hence, make sure your web designers know their responsibilities.

Interaction
A well-established website design immediately grabs your visitors and constantly draws their attention to each and every page, as well as alluring them to get in touch with you. It is probably the ultimate goal of every website to raise the conversion rate.

Accessibility of Information
Not all visitors to your website are interested or have time to browse your entire site. It is important to put the key information on the site in an easily accessible place. We also have had the experience of being unable to reach out to certain necessary information on a website.

Intuitiveness
A good website predicts what your visitor expects and serves directly to their requirements and has thoughtfully organized elements. If a visitor searches for any of your products or services on a search engine or directory where your site is listed, your website must have a landing page that is directly relevant to what they are looking for rather than forcing them to filter all your information.

Branding
Your website should be designed in such a way that it will make a direct reflection of your business and brand. Plus, your viewers should immediately make a visible connection between your logo and your content. A website that does this not only helps with brand awareness but adds a level of credibility and a better image to that of your business as a whole.

Conversion
Your website can be the largest customer-generator that your company can have and should focus on new customers and make additional services available for existing customers with a greater awareness of all services. Providing them with the tools they need to do business with you in a fun and easy way will increase your website conversion and give you the kind of success you are looking for.

Want to learn web designing course to make a great career in the web designing field? Enroll yourself in a Web designing course in Noida at GICSEH, the best web designing institute in Noida.

Join GICSEH today!!