Why Choose Java?
Java is among one of the most used and secured programming languages available in the market that was created years back. From computers to mobile phones, we can run multiple applications on Java platform. Java is considered as an evergreen programming language in the software development industry for the three main reasons and those reasons are:
• Portability
• security
• robust features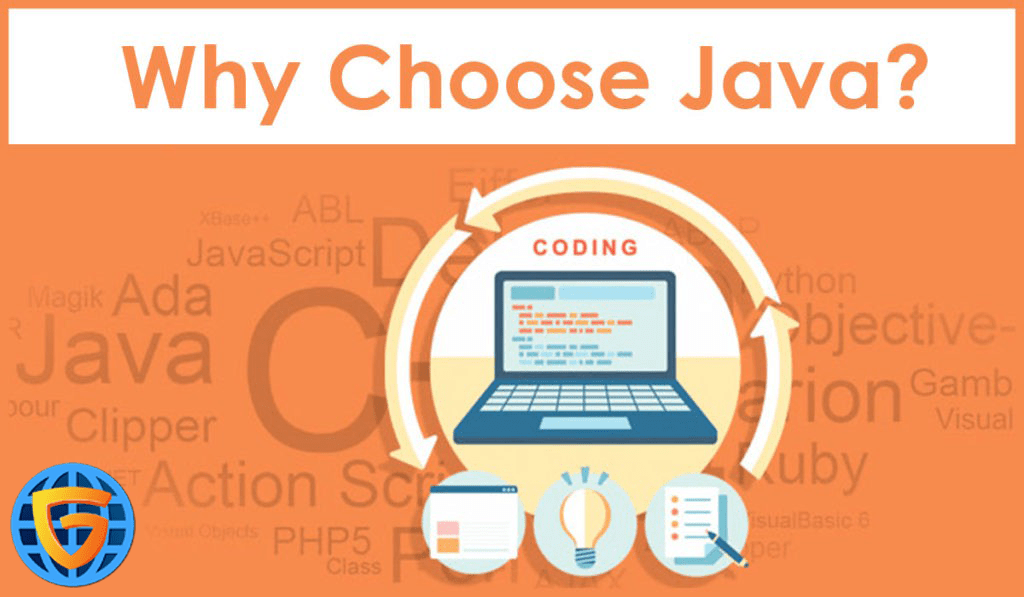 At GICSEH, JAVA Training offers the students a well-designed syllabus which is helpful to manage the complex software solutions. There is a huge demand for Java professionals in the industry not just to develop new applications but also to maintain the old applications which are based on Java.

GICSEH offers deep knowledge through the customized course module of JAVA training in Noida to meet the growing corporate needs. The course module is prepared by industry experts who have many years of experience in leading IT companies. We provide Java Training in Noida with Placement in reputed companies. Get Java Training in Noida At GICSEH – which is considered as No 1 Java Training Institute in Noida. We offer the best course module starting from the basic concepts to the advanced level techniques and methodologies of Java.

Java Course Syllabus at GICSEH is designed to excel your skills in Java programming, Java development and other essential tools which are required for developing. Our course module includes practical training pointing live scenarios and issues that help students to gain industry experience and confidence to work with any job requirements. Java Training in Noida at GICSEH will keep the students updated and trained with the latest changes and requirements in the industry and impart quality education through the expert trainers.

Advantages of Java:
There are a lot of advantages which Java offers, few of them are mentioned below:
• Java is simple to style.
• Java is object-oriented
• Java is versatile in nature.
• Java works in an exceedingly distributed environment.
• Java is a secure language.
• Java comes with the idea of Multithreaded Program.

Get Trained at GICSEH and become a JAVA expert!

Why Choose GICSEH For Your JAVA Training?
GICSEH is the best institution for Java Training in Noida
• We offer practical training by working professionals from the industry
• We provide you an opportunity to learn by working on real-time Java projects
• We offer interactive online training sessions
• Our Flexible Timings – We offer both Weekday and Weekend batches
• We provide you complete guidance to build your technical interview skills
• We have placement tie-up with more than 100 companies in Noida

You can walk into our institute for a detailed JAVA Syllabus.

What Will You Learn from our Java Training in Noida?
• You will get in-depth skills on how to do programming with Java
• You will get to work on advanced concepts of Java
• You will get a chance to enhance your knowledge to thoroughly use the JDK framework to create Java application.
• You will get to learn the implementation standard SQL queries to integrate with databases
• You will learn client-server interaction through sockets
• You will learn the Remote Method Invocation (RMI)
• You will get a chance to learn the use of collection to store and manage data

Scope Of JAVA
These days Java is the most preferred coding language in the IT sector worldwide and no doubt it would be at the same position in future as well.

Right from the starting of their career Java professionals can target a decent package and they get a very good pay once they get experience. If you have a proper technical knowledge with a valid certification from any of the well-reputed institution like GICSEH, you can target a great job in the Java profile.

JOB ROLES FOR JAVA DEVELOPERS:
• Software Developer – C
• Programmer Analyst – C
• Consultant
• Software Engineer – C++
• Embedded Developer – OOPS
• Module Lead – Core Java
• Sr Developer – Core Java
• Software Engineer – Core Java
• Core Java Developer
• Architect – Core Java
• Software Engineer – JSP
• Application Developer – JSP
• Software Engineer – Servlets
• UI Developer – JS
• Lead Developer – Angular JS

Java is one of the highest paid jobs in the IT sector. So, without any further delay, it is better to get make a career in Java by taking up Java training in Noida. Even though various programming languages are evolving in the recent days, Java is considered to be the most wanted high level language to build various applications which are very useful. Java Classes in Noida demands the highest position in the Job market because many MNCs require persons with Java knowledge and good skill sets in it. To enhance your knowledge and for your career growth, enroll now for the best Java Training in Noida. Our students are our priority hence we always do our best to provide our students with the quality information. Get in touch with the experts at GICSEH today and enroll for our upcoming batch.

Join today.