A career as a Web Developer in India
Have you ever wondered how to start your career as a web designer? Well, I'm sure you did. Then you must have had many questions. Where to start learning and where to find work? That is why this article is created to help you find solutions to answers. In fact, the demand for experienced developers is so strong that many companies send coding jobs overseas to India, Asia, and Indonesia, thus putting great pressure on domestic job hunters.

Web design is an integral part of any IT industry and is concerned with designing the identity of that particular industry for your online community. You have to design the part of the identity that a particular company needs for the users of the World Wide Web. It demands a high level of creativity and perfection, as well as uniqueness. A career in web design in India is not limited to the design of the website but extends from graphics to animations.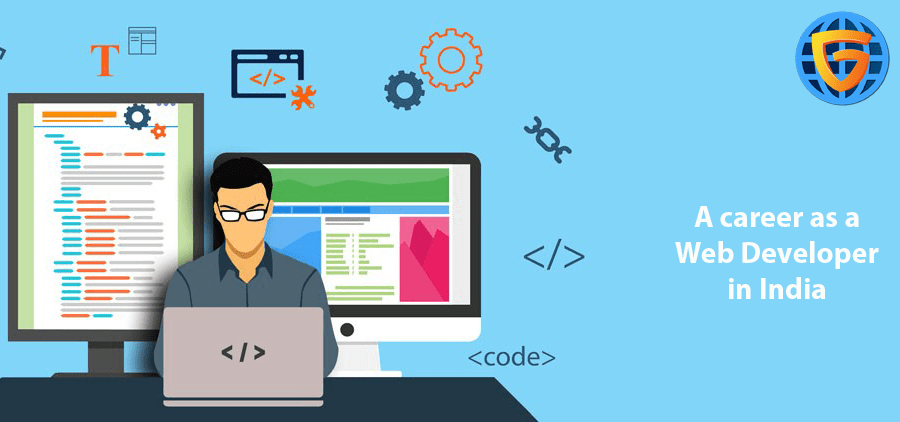 The basic web design course covers the study of web languages such as HTML, Java Scripts, and multimedia software such as Photoshop, Dreamweaver, PHP, Flash, etc.

Web Designer: Introduction: Web designers design web pages, web sites, and web applications for companies, companies, organizations, industries, or governments to establish their identity for their online community. Web design is the process that allows visitors to access web pages on a platform with several images, texts, links, graphics, etc.

Skills Required for web designing 2020
● Web designers must have a creative vision to create new website ideas and digital data representation schemes.
● Computer competence and a good understanding of programming languages is a must for people who aspire to become web designers.
● Communication skills are also necessary to understand the client's requirements and communicate effectively with the rest of the team.
● Knowledge of HTML and CSS, Dreamweaver, Graphic editors such as Adobe Photoshop, Programming skills, Flash
● Skill in the design of graphics and design and in visual design
● Good interpersonal skills
● Immense interest in working for the internet
● Ability to work long hours
● Full-stack development

How you can become a Web Designer?
After getting enough information about this field, you may be wondering how "I can become a web designer"? To answer all your doubts here is the answer:

There are various short term and long term courses available. In which you will learn about the basics and advanced level of web designing as per the duration of your course. A career in Web Development in India is bright and secured.

Once you will become a master in this field, you will be able to work with most of the reputed companies.

How To Be A Freelance Web Developer?
How To Be A Freelance Web Developer, Web developers like you sit at your desk for hours, struggling with the code, trying to put everything together, creating and recreating wired structures, and so on. Web development has been very appreciated since the turn of the century.

Some of you work for large IT organizations and sometimes take other projects aside. Some other full-time independents still manage to earn enough money as their corporate counterparts. The full-time freelance trend continues to increase as the amount of work available and the payment scales that are offered, present a more viable and lucrative option for your usual office work.

Job Duties
● Write the code from scratch or be able to manipulate the blue planes established to meet the business requirements
● Code the workflow information to the computer language.
● Verification of the requirements of the website, such as the objective, the necessary entries, and the exit requirements.
● Create, run and test the website
● Upload the site to a server; Register the site with the search engines.
● Prepare a workflow chart using themes, programming languages and logic.

Skills Required
● Software development
● Skills to solve problems
● Programming skills
● Graphic skills
● Perseverance
● Software documentation
● Adaptable to the newest technologies
● Team player
● Creative

Other Job Opportunities after Web Development course
The following are job opportunities in India that can be accessed after carefully reading the web design course:
● Web application developer
● Front-end web developer
● Back-end web developer
● Design and design analyst
● Web marketing analyst
● Senior web analyst
● Graphic designer
● Web animation creator
● PHP and CSS developer
● Web designer

If you are looking to make your career in the field of web development, then join the upcoming batch of GICSEH and take a step ahead towards a bright future.

Join GICSEH today!!