Benefits Of Digital Marketing As A Career Option
Digital marketing is considered a booming sector, attracting people to join digital marketing from all walks of life. Since the digital world is developing to a considerable extent, it has increased the demand for individuals possessing digital marketing skills.

Digital marketing, as the name depicts itself, means the marketing of any product or services digitally, i.e. promoting any products, services or brands online by advertisements through online marketing channels or mediums. The main goal of such digital advertisements is to make a connection with distant customers, build a brand reputation in the market by making an online presence, and increasing sales of products or services through several digital marketing campaigns. This digital marketing is entirely based on the internet as the core promotional channel, alongside mobile, email, text messaging, etc., where various services, tools, and marketing strategies are implemented.

Every brand, be it well-known or new in the market, wants a digital marketing professional to run an effective marketing campaign to promote their business and brand to ensure more online presence. Therefore, Digital marketing professionals are required to perform various tasks, namely keyword analysis, search engine optimization, content marketing, campaign marketing, driving potential traffic by using several social media platforms to the business website, and many more.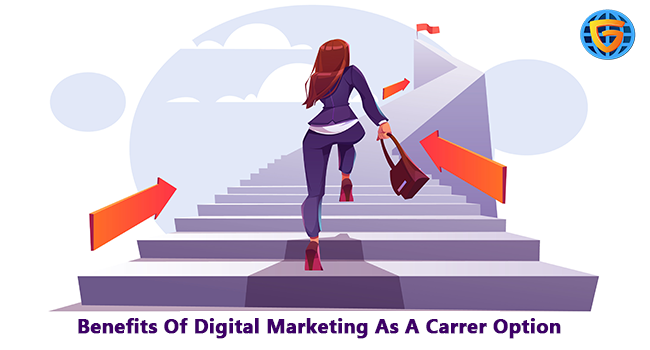 A well-established institute called the Global Institute of Cyber Security & Ethical Hacking (GICSEH) is the leading Digital Marketing Institute In Noida, which offers professional digital marketing training with 100% placement assurance to meet the industrial needs. This digital marketing training in Noida offered by GICSEH will help you learn all the concepts required to become experts in the digital marketing field. In fact, the course module of digital marketing at GICSEH is designed by Digital Marketing experts who are highly experienced in the same profile.

By enrolling for the Digital Marketing course in Noida at GICSEH, you will get the privilege to get digital marketing training directly from industry experts. This training involves in-depth hands-on virtual marketing training, which will make you ready for a future job. It will ultimately enhance your reputation and credibility by getting certification from one of the best digital marketing institutes in Noida, i.e. GICSEH. Once the training is over, you can get placement and internship assistance based on your performance during the training. However, in order to learn Digital Marketing, there are no such eligibility criteria to follow. You can learn digital marketing despite having a higher age, unmatched educational qualification, and profession. There is no barrier to give your career a new direction and new heights in your life.

Let us move further to the benefits of building a career in the digital marketing profession:

Freedom to work: A digital marketing profession is considered one of the coolest jobs, because one, being in the digital marketing profession, has the freedom to work anywhere besides the office. Every office has its working protocols, but if your employers allow then you can even work from home or anywhere else in a digital marketing profile.

Booming career: The demand for digital marketing professionals is getting higher day by day because of its versatility and flexibility. If you are familiar with the concepts of digital marketing, such as SEO and SEM, possessing technical skills, then you will definitely succeed in the profession.

High-income career: When you possess digital marketing skills that are highly in demand, then it will be an added advantage for you to negotiate on remuneration. The chance of getting hiked all depends on how many skills you have. The more skills you possess, the higher remuneration you get.

No definite qualification and age needed: The digital marketing course can be joined by anyone no matter how much and what type of qualification he has. There are no specific qualifications and ages required to join the course or be in the profession.

Evolving industry: The digital marketing industry is evolving at a high rate, resulting in companies looking for professionals who can bring innovations and creativity to their work as per the audience's requirements.

Therefore, if you want to make a career in the digital marketing profession, then no need to look further, as GICSEH is the right platform offering Digital Marketing Training in Noida. Join GICSEH, the leading Digital Marketing Institute in Noida, and take your career to new heights.

Be a Digital Marketer, get quality training, and make a shining future.

Join GICSEH today!!