Career In Android Development and Web Development
A career as an Android Developer
The boom in the mobile industry can be easily credited to Android for the sheer number of smartphones it has put in the market. In fact, we can safely bet that you are one of the billion Android users out there. Android app store hosts millions of apps, some of which are sole drivers of business for MNCs. Such is the potential of this open-source platform that the reasons to follow a career in it are aplenty.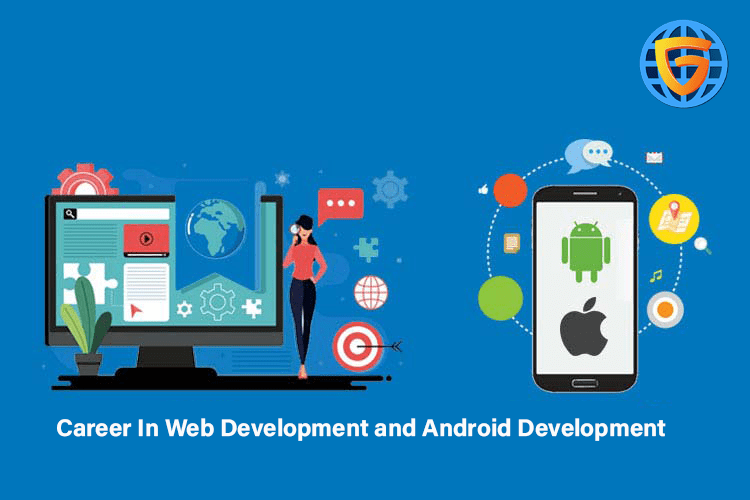 Basic Requirements for a career in Android development :
Android apps are primarily written in Java. People having an aptitude for oops concepts find it easy to leverage the Java environment to build Android apps.

Knowledge in Html and CSS also comes in handy for UI design.
Innovative thinking and adapting quickly to new syntaxes help you a lot here. If you need help in gaining these skills, GICSEH is the best option available to you. Get completely hands on experience on live projects at the Global Institute of Cyber Security and Ethical Hacking.

The future of an Android developer :
There are more phones than the total population of the world. As per a survey, more around 2 million new Android devices are being activated on a daily basis. Plus, looking at the trajectory of how android has grown, we can say for sure that it is here to stay. Every business that was once satisfied with a website now wants an app. Here's a list of job titles for Android professionals:

● Android Engineer
● Mobile Lead Software Engineer
● Android App developers
● Android Mobile Developer
● Mobile Architect
● Mobile Developer
● Mobile App Developer
● Mobile Embedded Software Engineer

It does not end with development either. There is a support environment (technical support team) for old apps, debugging, and testing.

How much does it pay?
Android apps have been known to mint millions. The average salary of an amateur developer is Rs.3,00,000 and increases strongly with experience.

If Android developer is in the list of your choices for career options, we say look no further. You already have a winner here.

A career as a Web Developer
Certified web development courses are pursued by many aspiring web developers in today's time. It provides a rewarding career to an individual who plans to venture into the programming domain. However, before you take the plunge to be a web developer, let us look at some aspects that you should consider.

Eligibility
A simple 10 +2 makes you eligible to pursue a degree in web application development. This career option introduces you to various aspects of web and program languages, such as Html, CSS, PHP, Word press, Drupal, and Joomla. Basically, the course will ensure you acquire skills related to website designing and development. If you love coding and scripting languages, you are definitely a cut out to be a web developer. Besides, if you have the technical know-how and creative talent, you can go a long way in becoming a successful web developer. You should be good at planning and conceptualizing new ideas. If you have the following skillset, you should consider opting for a course in web application development:
● Good design sense
● Computer proficiency
● Knowledge of programming language, such as HTML, CSS
● Talent for graphic designing
● Knowledge of emerging web technologies

Good interpersonal skills are always a must to communicate with your clients and design a webpage as per their taste. If you are good at English speaking and writing, your employability chances are high. Lastly, passion is what drives creative websites. If you don't have that drive, then it is difficult to attain success in this competitive career.

Certified course
A number of reputed institutes offer diploma and short term courses in web designing and web development training. The course at GICSEH will equip and individual with the A-Z on design, the use of colors, fonts, the layout of websites, graphics, images, easy navigation techniques, and different designing software. Web development is emerging as one of the hottest career options thanks to online shopping gaining traction. Web developers are demanding lucrative salaries as the field is expanding exponentially. The candidate with the right amount of skills and creativity has the world at their feet as they are eligible for varied job roles.

You can become a web developer and designer, HTML developer, PHP developer, Joomla developer, social network site developer, UI developer, and many more job roles await you once you complete a diploma program in web application development.

If you are interested in any of the above-mentioned courses then get in touch with the industry experts at GICSEH. We assure you of the quality training along with 100% placement assistance. All the best for a bright and rewarding career!

Join GICSEH today!!