Choose Career as a Web Developer
Web Development refers to creating a website and maintaining it, a website can be a single plaintext page or a complex and interacting page with numerous feature which is created by a Web developer. We always get confused and consider wed developer and web designer as same but they both have really different works whereas Web developers are of 3 types: -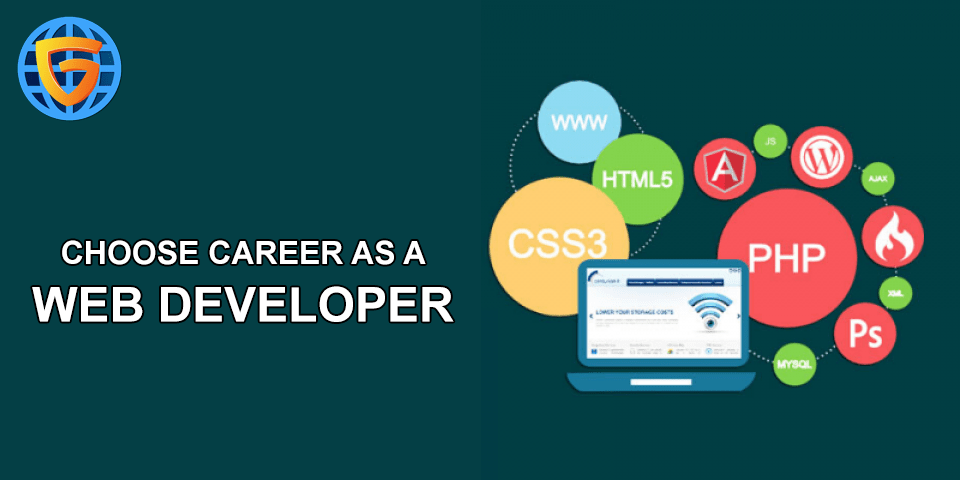 • Front-end developer
Front-end web developer works on visual part basically what we see on the website the layout and the text formatting this all work done by front end developer; they also have to do coding in different language in order to maintain the visuals of webpage

• Back-end developer
Back-end web developer works on server basically they create software and logical system for a website, they create an indirect pathway from server to front end web page where visitor interact, for example when you put your Id password on Facebook you log in to your Id, not others this is because your data is stored in the server and back-end developer creates a link to transfer all details from server to front end

• Full-stack developer
Full-stack developers are independent because they have to manage both front end and back end, they can develop and manage both server and client software, they are also mastered for both kind of software programming, these developers are hired by both big MNCs and small company because they can manage two-person work at the same time.

WHY YOU SHOULD CHOOSE WEB DEVELOPMENT AS A CAREER?

Since websites are used for commercializing, web development became the fastest growing industry, today every business want their website, whether it's a small shop or a restaurant, now it's not limited to brands, because the race between every business is on power and website became the modern way to grow your business, today every customer or individual prefer checking detail about anything before visiting their and websites help them to give an insight of the particular thing or business, websites made business very easy because while advertising they can sell their products too, which basically help you to grow your work without setup a shop or proper office and this increased the need of potential web developers and lead to a big opportunity for every job seeker to learn and start their career in the field of web development.

WHAT DO YOU NEED TO BECOME A WEB DEVELOPER?

Whenever we think about Website first thing comes in our mind is coding, programming and basically a degree you must need for jobs, but this use to happen a few years ago but now things are changed companies are more approaching for skills rather than degrees, this really opened up a huge opportunity for everyone as a career, so now you know if you have the interest and passion to learn you can proceed your career as a web developer, Web developing is an art of learning the more you learn the better you can do also in above lines we told you about the huge opportunity of jobs are waiting for you, now as you know insights of web developer you must figure out yourself that which category you should go with.

STILL, QUESTION ARISE FROM WHERE YOU START?
As you know you don't need any previous knowledge about web development to become a web developer the only thing you need is good learning from basic to advance and we at Global Institute of Cyber Security and Ethical Hacking help you to achieve your dream we have an experienced team of faculty who will train you from the scratch and help you with all the difficulties throughout the course, We programmed a web development course and you really don't need to be experts in anything special to train for the course all you need to have a passion to learn.

WHY YOU CHOOSE US?
Our Web Development course consists of all tools which help you throughout the course and our faculty are experienced and have been working for some big MNCs their inspiring journey will motivate you and we follow always advance teaching which includes modern changes in the field so that you can keep up with the trends, we also give 100% job assistance after completion of course which will help you to get a job in some industry-leading companies. We have other courses are also available including python programming, Android training and many other IT-related courses.

What are you waiting for now? GICSEH welcomes you to change your career and achieve your dream. GICSEH is the best institute for Web Development training in Noida. Join today and take a step ahead towards a bright career. We assure you the best quality training.

Join GICSEH today!!