What Makes Web Development Different From Web Designing?
Around the world, millions of users are connecting through internet space. The advancement in technological capabilities has drastically increased our power of internet speeds from Kbps to Mbps. In the pandemic period dependency on internet services has increased exponentially. The power of the internet is endless. It helps you to create, innovate, develop.

Before coming on to the basics of web designing and web development, let's be clear about the web. What is a web? In simple words, we can describe the web as a network of networks. We also call the web, the World Wide Web (WWW) which helps us in providing all the resources using URL links that can be accessed using Internet space.The power of the Web is immense. It helps developing new and innovative businesses and acts as a platform for sharing new ideas and models. It helps in connecting to unlimited people virtually all over the world within seconds. It all happens through the web only.

Web Designing and Web Development come under a single umbrella of digital careers and act as a lifeline to the website. But both have different technical roles in the IT space. Both have infinite growth possibilities and career expansion opportunities in the digital world. It's up to the individual what to learn and make a profitable professional career. Moreover, Web Designing doesn't require much programming knowledge. It only requires some basic programming skills in comparison to Web Development. The motto of both is to make website performance better and presentable. The website is divided into two groups: frontend and backend.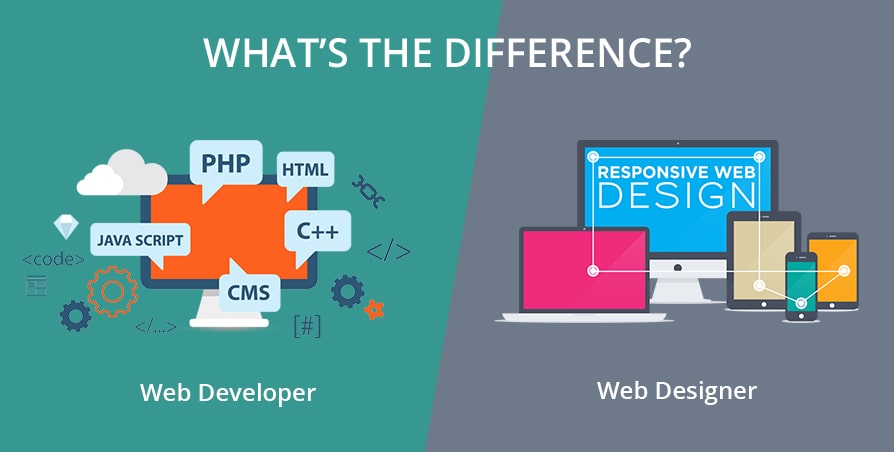 What is Web Designing and its Usage?
In simple words, the physical features and appearance of any website come under web designing. It acts as a part of the website regarding the quality of graphics used in making the website more attractive and reachable. A web designer should know the basics of HTML, CSS languages. The role of the Web Designer is to make the website more presentable and attractive so that it remains appealing to the targeted audience. All the stuff in the forms of photos, graphics which we see on the websites is all due to web designing. Most Web Designers use Adobe Photoshop tools to perform all graphics tasks, color theory, etc.

What is Web Development and its Usages?
Web developers had to perform a major role in the functioning of websites smoothly and effectively. They are also called Programmers in the IT community. Web Developers are solely responsible for the inner workings of the websites and their bugs. Focus more on developing user-friendly websites. All the website structure is done by using coding which is possible through using HTML and CSS languages.

HOW THEY MANAGE TO DIFFER FROM EACH OTHER
1. The most common insight among interested aspirants is the monetary differences in earning as web developers are capable of earning huge sums of money in comparison to web designers.
2. There is a huge difference in skills, as web designers are more creative whereas web developers need to be more analytical and logical in structuring websites.
3. Both Web Designing and Web Development go hand in hand but a web developer gets more professional value in the IT industry as a web developer capable of laying the foundation of websites. All the major features of websites such as website development, hosting, web address, home screen, payment pages, etc., are performed by web developers.
4. Web Designing always adds attractive graphics to the website so that it remains approachable to the targeted audience.
5. Don't make negative assumptions about web designing. Their demand in the global IT space will never be diminished, rather it will create more vacancies soon.
6. At last, both are dependent on each other for making websites more lucrative. Web development remains to be a major part of website development and web designing being an integral part of it.

Now you must be familiar with the usage and the difference between web development and web designing. GICSEH in Noida offers Web development training in Noida as well as Web designing in Noida. Kick start your career with GICSEH and get job offers from leading companies. We wish you all the best for your future.

Join GICSEH today!!