Digital Marketing Trends in 2021
At one time, ambitious concepts bordering on the ridiculous were artificial intelligence, data-driven marketing, and voice search engine optimization (VSEO). Today, for most business owners, these innovative digital marketing trends are among the top priorities in 2021.
And why would they not? After all, you have to adapt to the rapidly changing changes in digital marketing if your company intends to remain competitive in today's online landscape.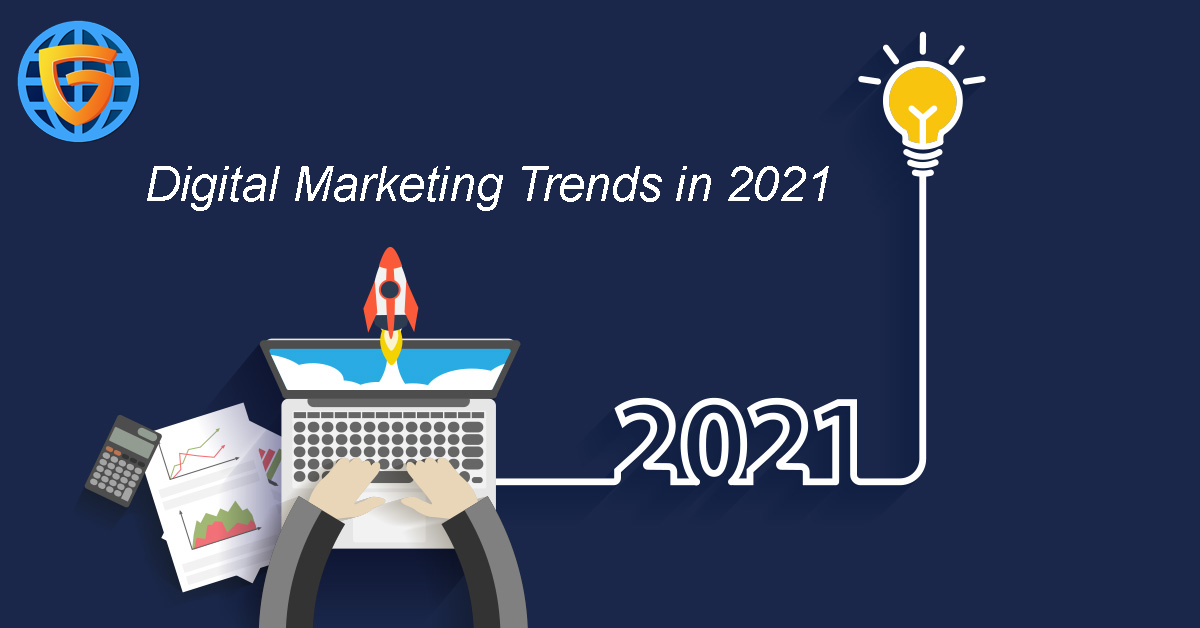 Artificial Intelligence
2020 may be the year when many people wake up to the dominance of artificial intelligence if you have not already realized it (AI). It is sure to be at the heart of global business and industry in the future, and many simple jobs are already being taken over.
AI can analyze consumer behavior and search patterns, and use social media platform data and blog posts to help companies understand how their products and services are found by customers.
Artificial intelligence will soon be the driving force behind many services, and we are already seeing it introduced in areas such as:
● Basic Communication
● Product recommendations
● Creation of content
● Personalization of emails
● Transactions in electronic commerce
Businesses that adopt AI in 2021 will be able to reduce the cost of staffing and accelerate growth, getting an edge over their rivals.

Programmatic Advertising
Programmatic advertising means using AI to automate the purchase of advertisements so that you can target more particular audiences. For instance, real-time bidding is a form of programmatic ad buying. This automation is much more efficient and quick, which means higher conversions and lower acquisition costs for customers.

ChatBots
In 2021, chatbots will continue to be a significant part of digital marketing. Instant messaging is used by this AI-based technology to chat with your customers or site visitors in real-time, day or night.
Many customers prefer to interact with chatbots as they are 24/7 responsive, give prompt answers, recall your entire purchasing history accurately, and never lose patience. By meeting the expectations of customers and automating repetitive tasks, these virtual assistants offer excellent customer service, which means you can concentrate on more important work.

Voice search & Intelligent speakers
The increasing use of voice search has made it essential for businesses in 2021 to rethink their digital marketing strategies. To deliver value-based content effectively to their customers, many brands already include voice search in their digital marketing strategies.

Research for Semantic Keywords
When you create long-form content, here's something you need to keep in mind: You have to write for individuals, not for Google. Every other day, banging out a 5,000-word post is great, but if you don't keep user intent in mind, you won't see the results you're hoping for. This is the primary objective a person has when they type or speak a search query, also known as search intent or keyword intent. It could be to find a product, information, or a location for a store.

Neuromarketing
Last, but certainly not least, we will dip our toes into one of 2021's most wow-inspiring trends in digital marketing: neuromarketing. While this may sound like we're quoting from a sci-fi movie, the truth is that this technology is rapidly advancing and may soon become a viable tool for marketers.
Neuromarketing is a strategy for the uninitiated that analyses measurements of the brain activity and nervous system of a person to determine which types of content they find engaging.

5G Technology
The dawn of 5G technology, or the fifth generation of mobile technology, is arguably one of the most significant digital marketing trends of 2021 in a world that has gone mad for mobile. This update heralds a new era of digital communications, and virtually every industry will experience its impact.
All that is to say, 5G technology, from digital marketers to the average user, will change how we access online content.
No doubt, Digital Marketing is the only field that will grow continuously and will have ample job opportunities in the coming future. If you are also keen to make a bright future in the Digital Marketing profile, then join our upcoming batch of Digital marketing training in Noida today!

Join GICSEH today!!