Why Are Digital Marketing Tools Essential In Learning?
In recent days, you'll easily find a lot of tools for digital marketing available on online platforms but it seems a little difficult to understand where to start with these tools and their applications. Although every digital marketing tool requires a sufficient amount of investment of your time and money. Picking up the right tool for digital marketing is a complex task. Let's understand the roles of marketing tools.

What are the Marketing Tools?
Tools always play a crucial role in where we can rely easily upon our jobs to be done. You should have the right set of marketing tools to manage day-to-day data insights, content, and every other task. Therefore digital marketing is essential, without choosing the right tools you won't be able to create the required strategy that enables the targeted audience and drives traffic as well as follows the customer journey.

The basic purpose is to provide different types of marketing tools for varieties of industries, products, or services. Tools will help in bringing your Digital Marketing effectiveness if used wisely.

These marketing tools act as a planned strategy that leverages the power of social media marketing and the use of search engine optimization(SEO) to drive traffic for the targeted audience.

The necessity for Digital Marketing Tools
In recent years, there are so many different types of online digital marketing tools that have stepped into the market, it's hard to sort out the right tools. Every new marketing tool requires a sufficient amount of investment of your time and your valued money, so make your selection effectively and wisely, preventing yourself from ending up in any hassle and making the wrong tool selection.

These tools facilitate marketers to create, test, and measure quickly the performance of their ongoing promotional campaigns and its effectiveness.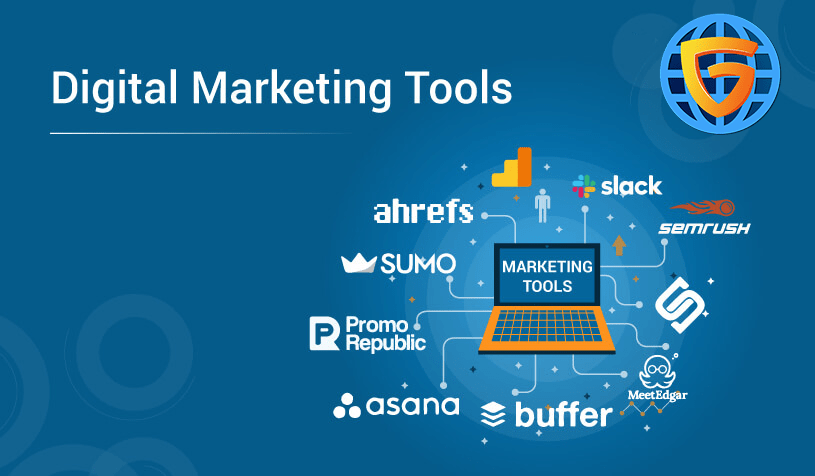 Essential Digital Marketing Tools which are in high demand among marketers are as follows.

1. Data and Analytics
2. SMM
3. SEO
4. Content
5. Project Management

Data and Analytics categorized as -:

1. Google Analytics
2. SumoMe

Google Analytics
All Digital marketers use Google Analytics for scaling their business. It is completely a free tool that facilitates all the detailed information about your website performance, audience demographics, most searched keywords, actions that were taken by you, and much more valued information and this tool will help you to know exactly where you're losing traffic.

SumoMe
SumoMe tool allows you to track your viewers' behavior while they are on your website and make corresponding adjustments accordingly. Heat Maps features help to see where people are clicking and their Content Analytics to see where people stop reading, this is one of the best tools under the Data and Analytics category.

Social Media Marketing(SMM) categorized as-:

1. PromoRepublic
2. MeetEdgar

PromoRepublic
PromoRepublic is considered an all-in-one tool that helps to run your content on autopilot mode. It has features of content creation, scheduling, social media monitoring, collaboration, for agencies and freelancers. It works as a White Label solution and helps in smoothing your workflow and can save you up to 20 hours every month.

MeetEdgar
MeetEdgar is among the best Digital Marketing tools for creating effective content. You can add multiple contents in your tweets, on LinkedIn, and Facebook and then can be separated into many categories according to your needs. You can set a calendar to schedule your selected posts for your social media account at a specified time.

SEO(Search Engine Optimization)

SEO tools that are most commonly used are:

1. Ahrefs
2. SEMRush

AHREFS
Ahrefs is one of the most popular tools for SEO that is used for analytics, backlink analysis, audit reports, URL rankings, etc. Ahrefs is not a free version and is worth paying a buck for this tool, it is also used for keyword analysis and used by almost all top companies like Facebook, Linked In, Netflix, and more.

SEMRush
It does all your keyword research, keeps a track of your business strategy, and runs an SEO audit on your blog or article. SEMRush tool helps in creating the best competitive intelligence solution for all digital marketing spheres and is perfect for Pay-Per-Click as it allows a bulk of keyword research that helps in tracking the performance of your paid search campaigns.

Content categorized as-:

1. Buffer
2. Snip.ly

Buffer
Buffer is the fastest method to share anything that you are reading and helps in building your audience and growing your brand on social media platforms. With its app, your post will automatically be queued and posted for the social media platform you choose.

Snip.ly
Snip.ly tool allows you to add a call-to-action option on every blog and post it on social media platforms. You can even personalize your links with themes, logos, colors, etc.

Project Management categorized as -:

1. Asana
2. Slack

Asana
It is one of the best work management platform tools which helps to get your work done faster. It makes it much easier to read progress reports for projects and can turn conversations into tasks as well as project templates. Eventually helps in creating productivity.

Slack
Slack is a cloud-based proprietary instant messaging system that allows you to quickly communicate with your clients. It is just like a chat room for your whole organization which is specially designed to replace emails.

If you wish to enroll for a complete digital marketing course in Noida, GICSEH has a specially curated Digital Marketing program that will help you gain expertise in various digital media aspects like Keyword Planning, SEO, Social Media Marketing, Search Engine Marketing, Email Marketing, Affiliate Marketing, and Google Analytics.

Join GICSEH today!!