Scope of Digital Marketing in 2021
In today's world of internet, Digital Marketing is the only one and most guaranteed way of marketing, which is popularly being the most preferred space for marketing communications and related interactions.

The future of marketing is way beyond traditional marketing and now, marketing is majorly based on the Digital Sphere. The scope of Digital Marketing provides some of the most powerful techniques of marketing where traditional modes of marketing fail.

The great panjandrum on Digital Marketing over industrialists is to empower them and to optimize their start-ups in the quickest possible and most cost-effective fashion. Future of digital marketing is going to be more encompassing in 2021. Undoubtedly, it is an undeniable fact that there is a great scope in digital marketing.

The things that are considered for Digital marketing are like –

• Search engine results – page rankings
• Search engine platforms – Advertising
• Conversion through SMO & SEO campaigns
• Optimization of internet marketing & associated ROI
• Marketing on Digital World & Banner ads on other websites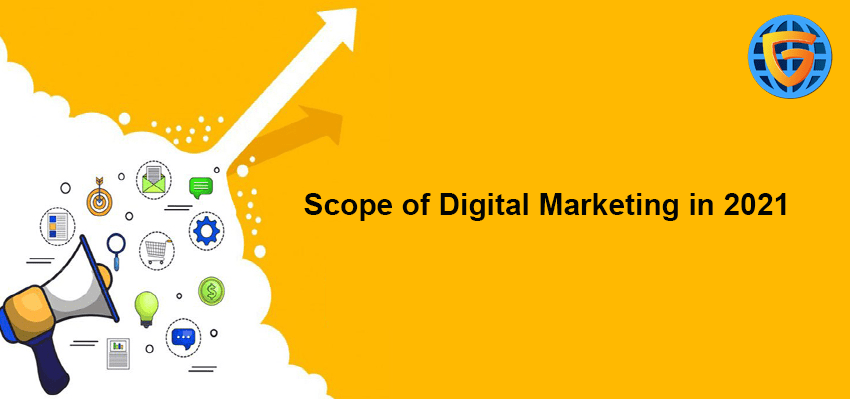 Future Trends in Digital Marketing in India

The most powerful and result-oriented way of marketing in 2021 is Digital Marketing, and some of the observations on current and future of 5 key channels which plays role in deciding future of digital marketing in India are–

Mobile Marketing
Mobile marketing is going to play one of the most significant roles in 2021, where marketers plan in a result-oriented fashion to understand customers, to devise result-oriented marketing plans and campaigns, changing needs and characteristics.

Video Marketing
Video content is absorbing up the content marketing and power to tempt more customers in quickest possible is the advantage for online marketers. As mobile marketing is booming, videos are now offered on mobile phones that fuel up the whole process. Video marketing is the most powerful way that companies use for – Introducing themselves, Spreading their messages, Promoting their products/services, Increasing their reach and optimizing search ranking, Boosting customer engagement and enhancing returns on investments

Email Marketing
The most important part of your business branding is Email marketing and you need to pick those trends that befit with your business objective and customer profile. In email marketing strategy, using professional email templates should be the base of your email marketing campaign, as your emails should reflect your quality and Integration of social media content. Aesthetically appealing animated emails are the trend that will see a great rise in mobile-friendly email marketing.

Social Media Marketing
Social Media Marketing has a massive power to channelize marketing campaigns in effective and innovative ways as social media keeps evolving. The medium to respond to new tech innovations adeptly is Social media, it also exceeds customer's expectations at the same time. Some of the key social media trends in 2021 are – Live video streaming, the Enormous evolution of Snapchat, Instagram stories, social slideshow ads, social chats, etc. would be the top components of social media marketing in 2021

Search & SEO Marketing
It is important for you to know the latest changes of SEO marketing and employ effective search engine strategies as Search engines evolve constantly. As they evolve, their changes prompt a shift in marketers' ways of targeting audiences.
Some of the SEO trends that will turn out to be major hits in 2021 are- Google's Keyword Planner, Moz's Keyword Planner, Link building will stay as a powerful SEO technique, Quality content marketing with the perfect blending of video content, Personalizing SEO campaigns as per target audiences

Conclusion
Digital Marketing scope in the future of marketing will not only thrive in the most result-oriented fashion but also let businesses survive. Following latest updates, including new techniques of Google and combining future trends in digital marketing will let your inbound marketing acquire great benefits for you in 2021.

It will be worthwhile for you to climb on to the digital bandwagon when the time is right as Digital Marketing sure remains as the most effective way of marketing in the future too, either business-wise or career-wise.

If you wish to finally enroll yourself for the Digital Marketing course, contact the experts at GICSEH and clear all your questions regarding the course and its benefits and get ready to learn the insights of the security industry with the experts.

Join GICSEH today!!