Start your Web Development Career with GICSEH
Are you ready to start building polished websites and web applications but clueless regarding how to turn your ideas into reality? Join one of the leading web development training in Noida and let your dream of becoming a web developer fly high. There is no wonder that the career graph of a web developer in terms of growth and salary has great chances to exceed in upcoming years.

Since all the big or small businesses are trying hard to establish a significant online presence. Hence the demand for professional web developers is highly increasing day by day in the market. Most popular IT companies are hiring well trained and skilled web app development professionals to deliver their clients engaging, attractive, and productive online web solutions and increase their business sales.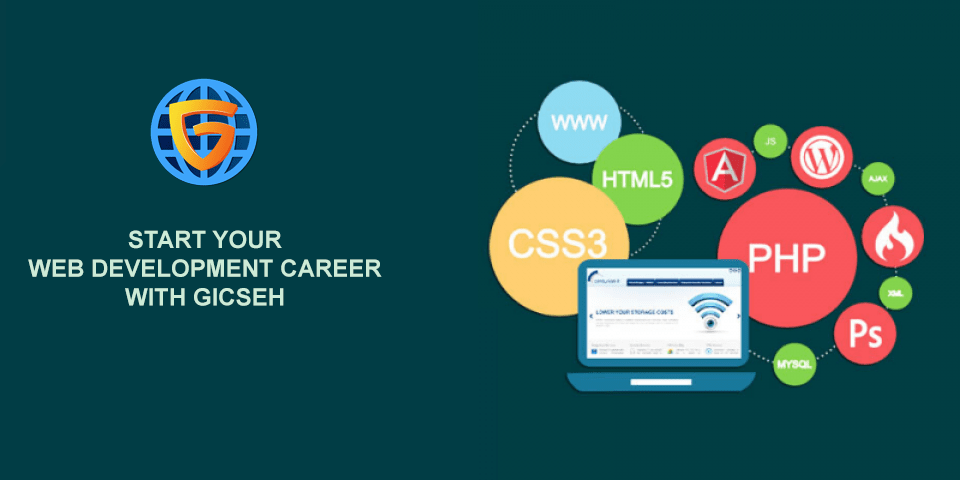 Designing a functionally active and search engine optimized website that can rule over your targeted audience, attract them and convert them into your leads and potential customers is not a cakewalk. It requires great hard work, deep learning of all required skills and use of web development tools. To become a web development expert you must join a web designing training in Noida.

Join Web Development Training in Noida to Give a Kick start to Your Web Development Career

Finding the best web development training institute in Noida is also a very tricky task but you can do it by doing a little research on your end. Go to the internet and type the keyword regarding the best web designing training institute near you in your city.

Consider the top 20 results in your browser and explore their profiles and courses by visiting their websites. Observe the designs, layouts, content, downloading time of the website and compare it with your other prospected websites. Score them according to their effectiveness and fix a meeting with the owners of the top five out of them. Make sure to ask everything about their courses, course fees, timings, practical lessons, and strategies they follow to teach their students.

After finalizing your training institute, enroll yourself with us. The highly professional and dedicated instructors will help you to learn all aspects of web designing & development and testing your completed web apps so you can secure a valued place in the Google Play Store. In a training, you will learn the following skills:

1.Technical Skills
Your expert trainers will assist you in clearing your concepts regarding web development, like coding and scripting languages, online libraries, tools, frameworks & layouts, and latest trends and strategies to implement the right technology. They help you to decide the place where to start your web development journey.

Whatever technical skills you have obtained during your academics and university courses are flourished by your trainers and you will learn to sell your skills effectively. By practical knowledge, you will create some dummy websites or some functional websites based on the requirement of a client. Overall they prepare you to rule the web industry in all ways.

2.Coding Skills
Coding is the core of web development. It comes with learning but to become a perfectionist regular practice is more important. The best technician training in Noida helps you to improve your coding skills by introducing different methods, coding languages, and open-source platforms. They provide you additional insight into the tech sector. Your mentor will help you to learn how to reuse a particular code section in other projects so you can save your time and resources.

3.Testing your Apps
To become a successful web developer you must be an expert in testing your code for bugs or running errors. Only a bug free code or program will be able to perform well on the real-world platforms. Make sure to design and develop high performing, low download time, and engaging websites with appropriate hosting and CMS.

4.Certification
To hold the position of a web developer in a leading IT company having a certification in the relevant industry that justifies your skills and knowledge is a must. A web development certification increases your chances to get hired by a well-known organization as soon as possible.

In this way joining a web development company is highly beneficial for your career perspective. It will track your skills and talent in write direction and help you in keeping updated with the modern marketing trends.

Join the upcoming batch and make a rewarding Career in Web Development.

Join GICSEH today!!