What is the purpose of Digital Marketing?
What Is Digital Marketing?
Digital marketing is a marketing technique that is done with the use of the Internet, mobile devices, social media, search engines, and other channels to reach potential consumers. Today many marketing experts consider digital marketing as an entirely new opportunity that requires a fresh and new method of approaching relevant customers and new ways of understanding customer behavior.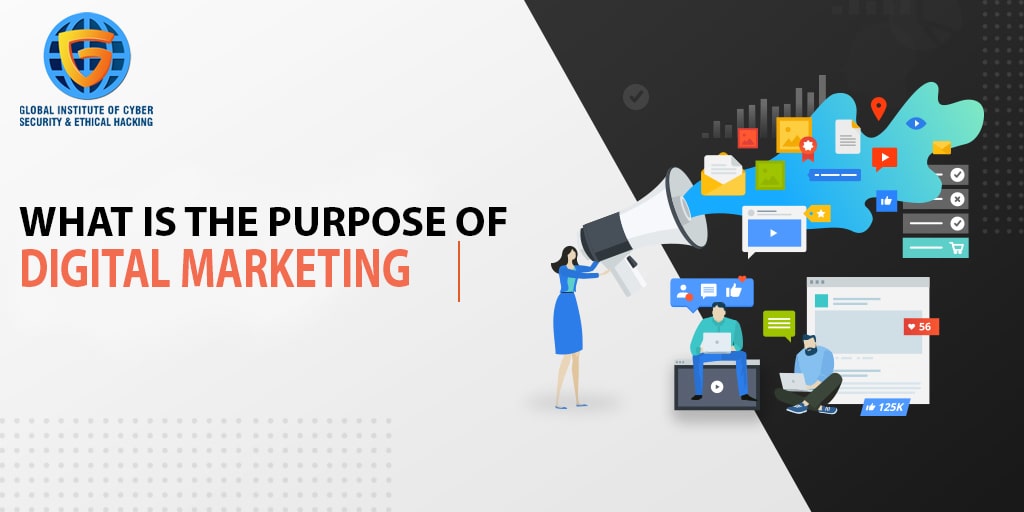 Understanding The Essence Of Digital Marketing
Digital marketing targets a relevant customer base and works for mass. In the present scenario, digital marketing is on the boon and includes steps like search result ads, email ads, and promoted tweets. Internet marketing is different from digital marketing. Internet marketing is advertising solely on the Internet, on other hand, digital marketing is wider it can take place through mobile devices, on a train platform, in a video game, or through a mobile phone app. In the field of digital marketing, advertisers are called sources, and members of the targeted known receivers. Sources will target specific and relevant, well-defined receivers.

Fields of Digital Marketing

Pay-Per-Click (PPC) Advertising
PPC advertising gives marketers an opportunity to reach their desired customers on a number of digital platforms through paid ads on google. Digital Marketers can set their PPC campaigns on Google, Bing, LinkedIn, Twitter, Pinterest, or Facebook and show your ads to your relevant customer who is searching for terms related to the products or services. PPC campaigns can be set on basis of demographic characteristics such as age or gender, or even you can target particular interests or locations. The most used PPC platforms are Google Ads and Facebook Ads.

Content Marketing
The main work of content marketing is to reach relevant customers via writing appropriate content. Content is usually written for a website and then promoted through different ways like social media, email marketing, SEO, or even PPC campaigns. The content marketing tools include blogs, ebooks, online courses, infographics, podcasts, and webinars.

Email Marketing
Email marketing is one of the most effective and efficient digital marketing techniques. Many people think email marketing and spam email messages are the same but that's not the case. Email marketing is the technique to get in touch with your right customers or the people who are interested in your brand. Many digital marketers use different types of digital marketing methods to gain leads and then add leads to their email lists and contact them through digital marketing.

Social Media Marketing
The main goal of a social media marketing campaign is circulating awareness about the brand and establishing social trust regarding the brand. As you go deep into social media marketing techniques, you observe that you can use them to get leads or even as a direct funnel.

If you want to learn digital marketing from the best digital marketing training institute in Noida then, you should definitely consider learning it from the Global Institute of Ethical Hacking. We have industry experts who will give you practical and theoretical exposure.

Join GICSEH today!!